Average attendance increases over 2,600 for the second time
Thursday, 25. April 2019 at 11:00
The average attendance of the ABA League games has increased in comparison to the previous season once again and has crossed the margin of 2,600 fans per ABA League game for the second time in the regional league history. Also, the Playoffs were historic, setting a record high total attendance of the games in the knockout stages.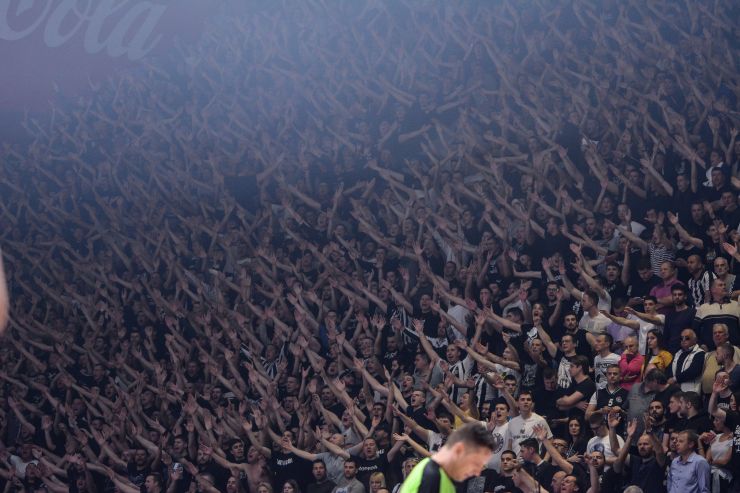 Partizan NIS fans Grobari (Photo: Partizan NIS)
The attention of the basketball fans in our region for the flagship regional basketball competition keeps increasing, as this season we have witnessed another increase of the average attendance of the ABA League games.
No less than 384,820 fans have visited the 143 games of the regional competition this season, which means that the average attendance for the 2018/19 ABA League season, which was 2691, has risen for 5.6% in comparison to the season before, when it was 2547.
This is also the second highest average attendance in the entire history of the regional competition, after the 2012/13 season (2723).
The 2018/19 season was historic in terms of the Playoffs games attendances, as the total attendance of the ABA League Playoffs games crossed 60,000 for the first time in history and was 65,118. The average of the eleven Playoffs games, played on Budućnost VOLI, Cedevita, Crvena zvezda mts and Partizan NIS courts was an impressive number of 5,920.
Just like the season before, Partizan NIS were the team with the highest home games attendance (5535 fans per game), followed by Crvena zvezda mts (4564) and Zadar (4431). However, it's worth mentioning that Zvezda jumped ahead of Zadar thanks to their Playoffs games, with Zadar taking the second place after the regular season.
Away from home, Crvena zvezda mts turned out to be the greatest magnet for the fans, averaging 3978 fans in their away games. Partizan NIS followed with 3821 and Budućnost VOLI was third with 3592.
Home games attendance:
| | | | | |
| --- | --- | --- | --- | --- |
| # | Team | Games | Total | Average |
| 1 | Partizan NIS | 12 | 66420 | 5535 |
| 2 | Crvena zvezda mts | 16 | 73031 | 4564.44 |
| 3 | Zadar | 11 | 48750 | 4431.82 |
| 4 | Budućnost VOLI | 14 | 55009 | 3929.21 |
| 5 | Mornar | 11 | 25400 | 2309.09 |
| 6 | Cedevita | 13 | 25850 | 1988.46 |
| 7 | Igokea | 11 | 19350 | 1759.09 |
| 8 | Petrol Olimpija | 11 | 16670 | 1515.45 |
| 9 | Mega Bemax | 11 | 16080 | 1461.82 |
| 10 | Cibona | 11 | 14740 | 1340 |
| 11 | Krka | 11 | 13730 | 1248.18 |
| 12 | FMP | 11 | 9790 | 890 |
Away games attendance:
| | | | | |
| --- | --- | --- | --- | --- |
| # | Team | Games | Total | Average |
| 1 | Crvena zvezda mts | 14 | 55688 | 3977.71 |
| 2 | Partizan NIS | 13 | 49671 | 3820.85 |
| 3 | Budućnost VOLI | 16 | 57469 | 3591.81 |
| 4 | Cedevita | 12 | 37767 | 3147.25 |
| 5 | Cibona | 11 | 28247 | 2567.91 |
| 6 | Petrol Olimpija | 11 | 26890 | 2444.55 |
| 7 | Zadar | 11 | 25208 | 2291.64 |
| 8 | Krka | 11 | 22824 | 2074.91 |
| 9 | Mega Bemax | 11 | 21907 | 1991.55 |
| 10 | FMP | 11 | 21450 | 1950 |
| 11 | Igokea | 11 | 20107 | 1827.91 |
| 12 | Mornar | 11 | 17592 | 1599.27 |