INTERVIEW: Jure Balažić – "ABA League is the best in Europe for young players"
Tuesday, 02. July 2019 at 16:06
Krka player Jure Balažić is the oldest player of the ABA League, the top-level regional club competition. In the conversation for the ABA League website, he stressed that his age still doesn't represent a problem for him, that youngsters respect him and he also admitted that some jokes are made on his "veteran status".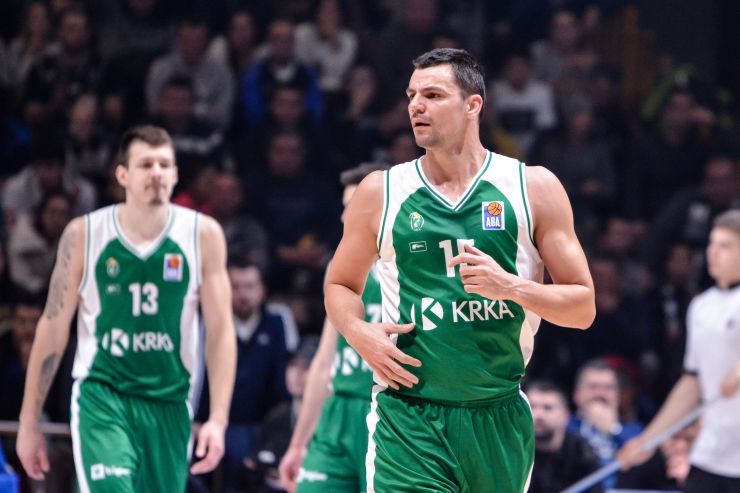 Jure Balazic (Photo: Partizan NIS)
Read more in the lines below.
"They enjoy having fun out of me. Like for example, "we will help you cross the road" or "let us carry your bag". It is always fun, I have a good relationship with this young guys, we get along fine. I also have my children and so I hang out with them in a similar way. Sports keeps you young and helps you socialize with young people."
After his career ends, the player knows what he would do and he keeps on thinking about his future career.
"Of course, I think about it a lot. I am aware that the end is approaching. Will it be after this season or some other, that's what I do not know, but for sure I will stay in basketball. I have been in this business for a long period and I believe that this is what I know best. I do not see myself in some other activities. Probably I will begin working with some youth categories and then see what follows."
Balažić believes that ABA League is one of the toughest to play in Europe and compared it to Turkish League, where he used to play earlier.
"I have been playing in Turkey for so long. Their level is really high, there is a lot of money, while here tactics is dominating and the league is similar to other strongest leagues of Europe and probably the best in some aspects. In Turkey, they work differently, they bring in a quality individual or two of them and they are winning games with the help of their teammates. While in the ABA League you prepare much better for every opponent. There are no secrets between players, they know each other well and that makes playing tougher. Everyone knows everything about you, while the situation is not really that way in Turkey. Everything is up to the individual. In the ABA League everyone knows how someone is shooting, from which side and so on and that makes it difficult to play. The game is really tough and every game is a true dogfight. To put it simple – the league is tough and fun at the same time."
He also is aware that many players left to the best clubs from this league and that it's perfect environment for learning.
"This league is ideal for youngsters. No other is better in this way. The one who gets a chance to showcase his talent in this league knows that he will be playing in big clubs someday. The best examples are players that signed for Fenerbahce like Bogdanović, Kalinić, Gudurić and some other youngsters that have already made excellent careers. Simply, ABA League is a good stage to prove yourself.
And which of the youngsters impressed him last season?
"Goga Bitadze made the best impression. With his game, he can develop into a fantastic player. There are others as well. I like Crvena Zvezda mts player Simanić. He fascinated me when he got a chance due to Faye's injury and replaced him very well. His future is bright. I would not bring up any other names anymore, but there are plenty of those who have vast potential."