Dragons face the Panthers
Thursday, 26. September 2019 at 16:14
In the first game at the ABA Super Cup on Friday, Cedevita Olimpija will battle against FMP in the clash of the two squads, which might not be predicted as the main favourites for the trophy, but their ambitions are still very high.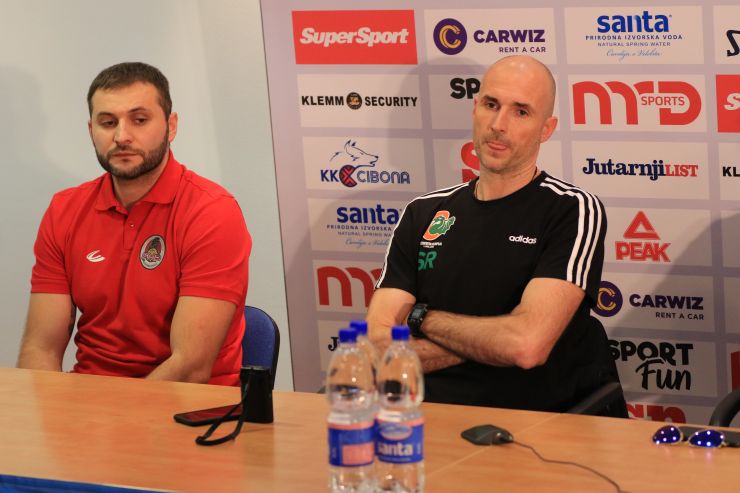 Vladimir Jovanovic, Slaven Rimac (Photo: Cibona/Zeljko Baksaj & Domagoj Vranar & Gordan Lausic)
Cedevita Olimpija are entering their first ABA League season following the merger of Cedevita and Petrol Olimpija and will want to compete with everybody, within the region and broader. FMP, as always, will try to upset every opponent with their ambitions and youthful energy.
Slaven Rimac, Cedevita Olimpija Head Coach:
"I hope that we would be watching quality basketball. I am convinced that all of the teams have arrived here with great ambitions. We are counting on Super Cup as it would be competitive game. We wish to see what we have done until now this preseason. We will benefit from the test against FMP, which is a young team in great shape. We must be at our best and see how we are playing at the moment. Our team is a new one and it is not easy to put everything together in the offensive end, the way we wish to. We must put more emphasis on defense. The team will grow offensively and I am satisfied that we have signed the players with character."
Vladimir Jovanović, FMP head coach.
"It is very important for us that we have managed to qualify for the 2019 ABA Super Cup. It means that we had a good last season. Now, we have a very young and talented team and we want to continue where we left off at the end of the previous ABA campaign. I am satisfied with the work we have done during the preparation period. We came here to check our current form and to see what do we need to improve before the start of the regular season. Our next opponent is a top quality team who has an excellent head coach. This is a good test for us and I just hope that we will play as all young teams should. I want us to be aggressive and tough on both ends of the court. I believe that the ABA Super Cup will make people will talk only about basketball in the following days and I am convinced that it will mean a lot to the players. For the end, I want to wish the teams all the best at the tournament."