Cedevita Olimpija beat Cibona and stay perfect
Sunday, 13. October 2019 at 17:00
Cedevita Olimpija have beaten Cibona in their first home court ABA League clash this season and have got away with the victory.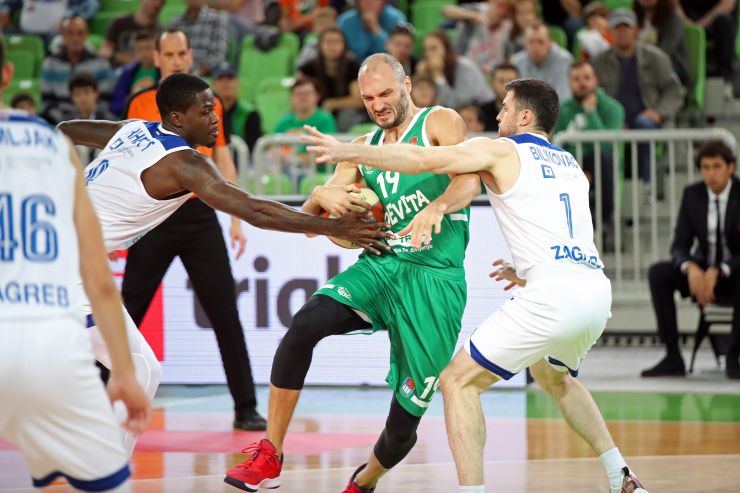 Marko Simonovic (Photo: Cedevita Olimpija/Ales Fevzer)
ABA League Round 2, Sunday, 13.10.2019:
CEDEVITA OLIMPIJA - Cibona 79:70 (21:14, 21:17, 15:17, 22:22)
Game recap: In Stožice Arena in Ljubljana, Cedevita Olimpija have played their home-court opener in the ABA League, against Cedevita of Zagreb and they have made their fans happy by giving them a lovely present – second win in the opening two rounds of the ABA League season. This will put Cedevita Olimpija atop of the standings after two rounds. On the other hand, Cibona have suffered their second defeat of the season in the second round and they will have to improve their performances in the remainder of the season in order to find themselves at the positions where they desire to be, eventually.
Key moments: The Dragons were ahead almost throughout the game, but Cibona threatened to turn the game around in the final quarter, when they managed to cut the gap between the two squads to only 2 points (65:63) with a bit less than 5 minutes remaining in the game. However, Cedevita Olimpija replied with a 5:0 run within a minute, to get safely away with three minutes and a half remaining on the clock. Cibona never managed to get into the game again until the end.
Man of the match: Codi Miller-McIntyre simply shined for Cedevita Olimpija this time, as he had 24 points, 6 assists, 4 rebounds and a valuation of 26 in 30 minutes spent on court. He is our man of the match!
Can't trick the stats: Cedevita Olimpija have outrebounded Cibona 42:25 and that's where the game has been decided.