Blaž Mesiček reinforced Mega Bemax
Thursday, 17. October 2019 at 12:47
Mega Bemax will continue the ABA League season strengthened, as Blaž Mesiček, who used to play for Petrol Olimpija and Pistoia last season, signed with the Belgrade side. Mesiček agreed on cooperation with the club until the end of the ABA League season.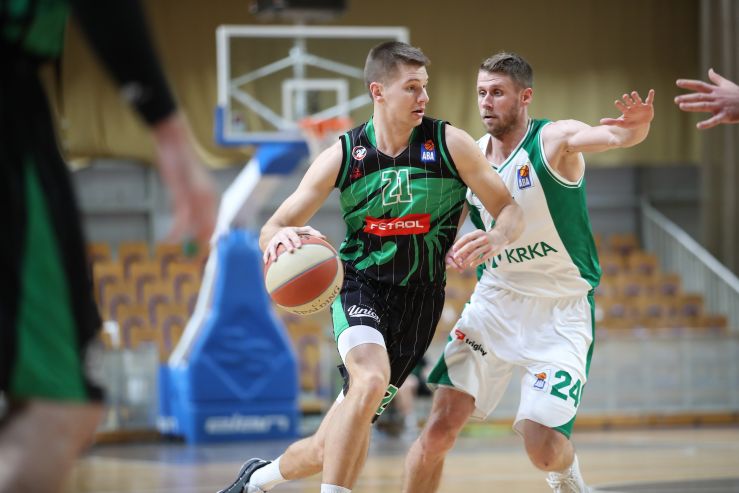 Blaz Mesicek (Photo: Petrol Olimpija/Ales Fevzer)
At the same time, Novak Musić, who started the season with Mega Bemax, is moving to OKK Belgrade, for which he used to play last season.
Blaž Mesiček was born on 12 June 1997, is 197 cm tall and covers the positions of 2 and 3. He started his senior career at Petrol Olimpija, from where he departed to Italian squad Brindisi. He spent there two seasons, after which he returned to Petrol Olimpija in 2018 for a short period, but returned to Italy, to play for Pistoia afterwards. He averaged 8.5 points and 2.3 rebounds for Pistoia in the Italian National Championship.
Mesiček used to play for all youth categories of Slovenia national team and also played for the senior national team in the World Cup Qualifiers.
---------------------
Blaž Mesiček pojačao Mega Bemax
Košarkaški klub Mega Bemax će u nastavak takmičenja u ABA ligi ući pojačan pošto je ugovor sa klubom potpisao Blaž Mesiček, koji je u prošloj sezoni nastupao za Olimpiju i Pistoju. Mesiček je ugovor sa klubom potpisao do kraja takmičenja u ABA ligi.
U isto vreme, dosadašnji plejmejker Mege Novak Musić će nastavku sezone igrati za OKK Beograd, za koje je i nastupao i prošle sezone.
Blaž Mesiček je rođen 12. juna 1997. godine, visok je 197 centimetara i igra na pozicijama 2 i 3. Seniorsku karijeru je započeo u Petrol Olimpiji odakle je 2016. godine prešao u Italijanski Brindizi gde je proveo 2 godine. U redove Olimpije se vratio 2018. godine, da bi posle nekoliko meseci prešao u italijansku Pistoju do kraja sezone. Za Pistoju je u italijanskom prvenstvu u proseku beležio 8.5 poena i 2.3 skoka.
Mesiček je igrao za sve mlađe reprezentativne selekcije Slovenije a nastupao je i A tim u kvalifikacijama za Svetski kup.