Old rivals meet in ABA League for first time
Thursday, 31. October 2019 at 11:00
In the opening game of the ABA League Round 5, Krka will be facing Koper Primorska at home in Leon Štukelj Sports Hall. The two sides will meet for the first time in the ABA League.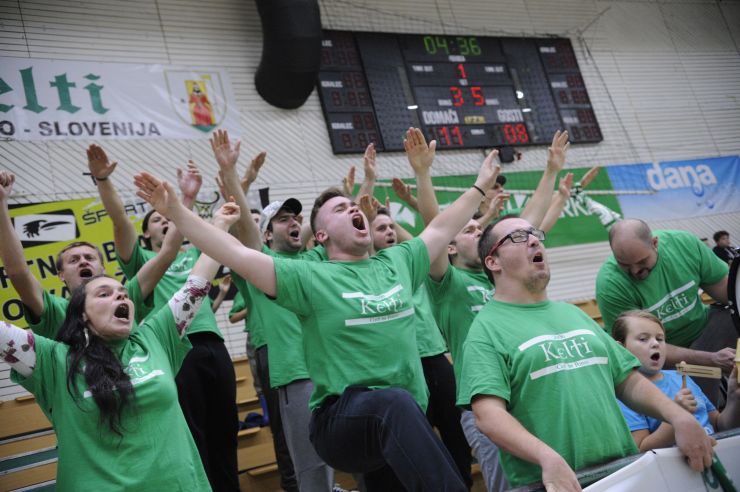 Kelti Krka fans (Photo: Krka/Drago Perko/kosarka.si)
ABA League Round 5, Friday, 1.11.2019:
Where? Leon Štukelj Hall, Novo mesto
Where? 20:00
Story of the game: The story of the rivalry of Krka and Koper Primorska is not anymore a fresh one, but the teams, that faced themselves in the Final game of the first ever ABA League 2 season, will meet for the first time at the top-tier regional basketball stage.
When they faced in the maiden ABA League 2 Final, in Čačak, a year and a half ago, Krka were the ones that got away victoriously and they have won the promotion to the ABA League immediately. Koper Primorska had to wait for another season, to reach the regional elite, but they have done it with style, impressing the entire region with their supremacy in the ABA League 2. They are continuing in the same fashion this season, in which they have already beaten both ABA League finalists from the previous season – Crvena zvezda mts at the ABA Super Cup and Budućnost VOLI in the ABA League season, on the road in Podgorica, as well as ABA Super Cup Winners Partizan NIS at home in Bonifika.
Now they have a chance to get their revenge over Krka for the defeat in the 2018 ABA League 2 Final. However, we must bear in mind that even though Koper Primorska currently have one victory more than Krka on their record in the ABA League, Krka are truly inspired when playing at home court, where they have already beaten the reigning ABA League champions Crvena zvezda mts this season and they will definitely not give up on the fight before the beginning of the game.
Who will win this time? What are your predictions?
Match-up in focus: We will enjoy the battle of two excellent point guards, as Glenn Cosey will try to cast a shadow over Žan Mark Šiško's excellent season by proving his quality. Cosey has been shining this season in both scoring (15.3 points per game) and passing (4.8 assists per game), being Krka's leader in both categories, while on the other end, Žan Mark Šiško might not be as lethal shooter, as he is averaging 9 points per game so far, but he is currently the top passer of the ABA League season, with 9.8 assists per game made.
Head to head in the regional league: 0:0.