Derby night in Bar – Mornar host Cedevita Olimpija
Friday, 01. November 2019 at 11:00
In the opening game of the Saturday's ABA League programme, Mornar will be hosting Cedevita Olimpija at home in Topolica Sports Hall in Bar in what is expected to be another basketball spectacle on the Adriatic.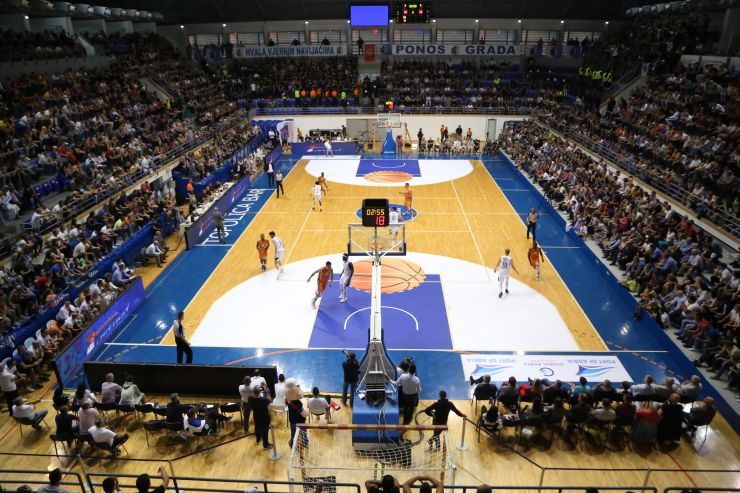 Topolica Sports Hall (Photo: Mornar/MEDIA Pro)
ABA League Round 5, Saturday, 2.11.2019:
Where? Topolica Sports Hall, Bar
Where? 18:00
Story of the game: Another huge game is coming to Topolica Sports Hall, which might as well be packed for another time, as Mornar will be hosting Cedevita Olimpija in a game of two highly ambitious teams this season, both of which are aiming for Playoffs.
Mornar will try to bounce back after their painful defeat on the road against Koper Primorska and to prove that they can cope with the best this season, after they have already faced Partizan NIS and Koper Primorska, two of which are counted amongst the teams that are playing excellent basketball this season and lost both times.
However, their task will be far from easy, as they will be facing Cedevita Olimpija, the team that is still undefeated in this ABA League season and they definitely do not have an intention of stopping at this point.
Can Mornar stop them? Or will the Dragons continue their unbeaten streak? Watch the game and find out!
Match-up in focus: Jacob Pullen or Codi Miller-McIntyre? This is the question now! Both of them are currently the top scorers of their teams, with Pullen averaging 19.5 points per game and Miller-McIntyre 17. The latter one is also the top passer of Cedevita Olimpija with 4.8 assists dished out per game, while Pullen comes second for Mornar with 5.3 assists per game. Who will shine brighter this time?
Head to head in the regional league: 0:0.