MVP of October: Aleksa Radanov (FMP)
Wednesday, 30. October 2019 at 10:00
We have the first monthly MVP of the 2019/20 season. It is Aleksa Radanov of FMP.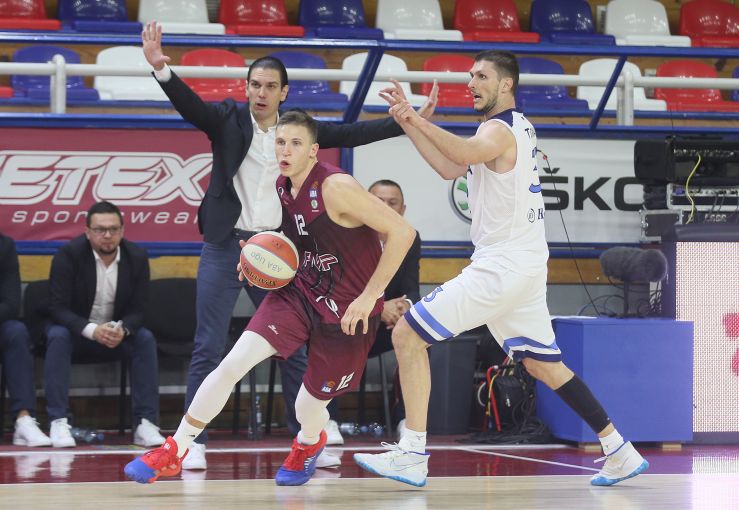 Aleksa Radanov (Photo: FMP)
Aleksa Radanov has proven, throughout the month of October, his dominance at the ABA League courts wherever he has appeared and besides the fact that he finished the month amongst statistically the most efficient players, he deserved himself the award with his contribution to the team's success – FMP have won all four of their games during this month.
The excellent swingman in the ranks of the Belgrade squad averaged 14.3 points, 5 rebounds, 3.3 assists and a valuation of 20.3 during the games of FMP, which puts him on the second place in the rankings in valuation of the month of October, but on the first place amongst the players, that are occupying the top of the standings with their teams at the moment.
"I am very glad to have received the award, but even more for the fact that my team is playing excellent at the start of the ABA League season, which is truly strong this season with plenty of excellent teams. The award is an accomplishment of the entire team and for me this is only an additional motive to continue working even better since the results are coming," Radanov told after he found out that he would receive the award.
This summer he moved from Crvena zvezda mts to FMP in order to get a bit more playing time and the decision proved to be the right one for him at the given moment: "Simply, I have been here for many years in the system and the decision was easy and simple. I wanted to get the playing time, to make progress and this was the easiest to achieve in the club which I know well and in which I have made my first basketball steps. We have been working well in our preseason, we have great chemistry on the team, we all have a desire to prove ourselves, have excellent coaches and my only task is to work even better, take advantage of my chance and to make progress."
FMP are going through a great season, as currently they are occupying the very top of the ABA League standings together with Cedevita Olimpija with a perfect score of four victories achieved in opening four rounds. What's the FMP's secret? "Everyone that is following basketball knows how many players were developed in this system. And this is the key word – system, where everyone is aware of their job and what is the core of everything – hard work, discipline and team spirit. This is something that you are taught every day, together with the winning mentality, since FMP plays every game with a goal to win it," Radanov told about the club, that has established itself as a true cradle of top-level talent in the region.
And what are the goals at the end of their season? Radanov would not like to precisely point a finger at the position in the standings where FMP wish to finish after a great start, but rather focuses on the process: "I do not have personal goals, except for the one to make progress as a player. I have explained a lot of our way of functioning as a team and club in the previous answers. Our goal is to give our best on the court, to fight and the results will come, without any pressure, since we have entered the season very well. Our working conditions are great and everything is upt to us now."
Check out some fancy plays by Aleksa Radanov from the month of October: