MATCH OF THE ROUND: FMP host Mornar in Belgrade
Thursday, 07. November 2019 at 15:00
In the opening game of the ABA League Round 6, FMP will be hosting Mornar at home in FMP Arena, Belgrade.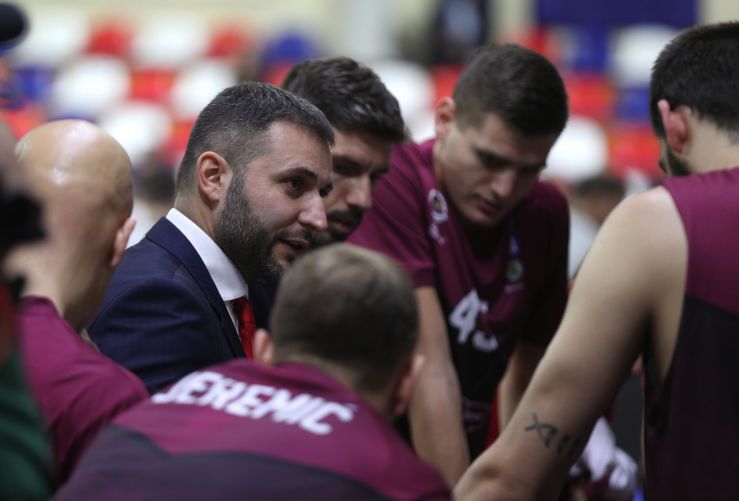 FMP team, Vladimir Jovanovic (Photo: FMP)
ABA League Round 6, Friday, 8.11.2019:
Where? FMP Arena, Belgrade
Where? 20:00
Story of the game: A big game is coming up as the 6th round opener in Belgrade, as FMP will be hosting Mornar of Bar in a battle of the teams from the upper half of the standings.
FMP have suffered their first defeat last round in the city clash against Partizan NIS, but despite that, they are still sharing the top of the standings after five rounds. On the other side, Mornar have bounced back after tough loss on the road to Koper a round before, with a home win against Cedevita Olimpija. This puts Mornar only a win short of reaching FMP and… possibly top of the standings as well!
Both teams will be highly motivated to score a victory this time around and that's what will for sure make this game utterly exciting. Who will come out victorious? Let's watch the game and find out.
Match-up in focus: Aleksa Radanov against Derek Needham! That's what's going to be a true spectacle to watch on Friday night. Radanov is currently the top scorer and third passer of FMP with 15 points and 3 assists made per game so far in the ABA League, while on the other side Derek Needham is currently the second best scorer and top rebounder, passer and ball thief for Mornar with an average of 12.8 points, 5.2 rebounds, just as many assists and 2 steals per game. Who of them will prevail this time?
Head to head in the regional league: In total 2:4; In Belgrade 1:2.