Derby night in Zadar – Partizan NIS coming to town
Friday, 08. November 2019 at 11:00
It's always a festival of basketball in Zadar when Partizan NIS are the guests of the Dalmatian basketball pride and it will be no different this time around.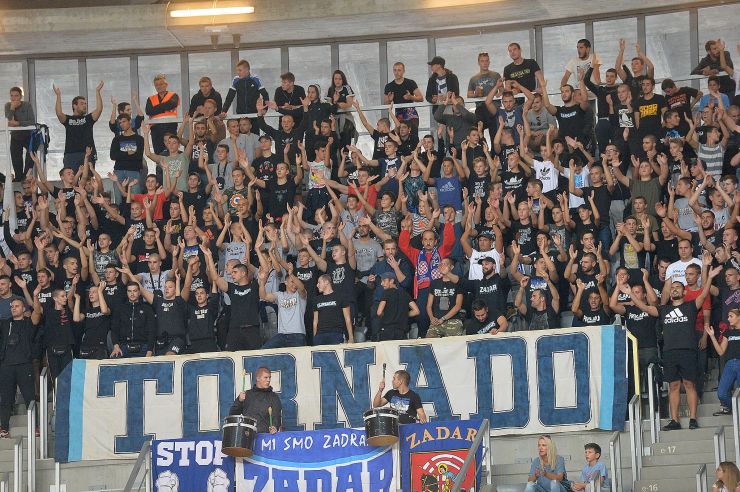 Tornado Zadar fans (Photo: Zadar/Zvonko Kucelin)
ABA League Round 6, Saturday, 9.11.2019:
Where? Krešimir Ćosić Arena, Zadar
Where? 18:00
Story of the game: Basketball fans of Dalmatia are already getting ready for the big game on the Saturday night, when their Zadar will be hosting Partizan NIS in pursue of their first win of the 2019/20 ABA League season.
After five rounds of the ABA League, Zadar are still winless in the ABA League and are occupying the very bottom of the standings alone. This time they simply must use the support of their fanatic fans in what will likely be a packed Krešimir Ćosić Arena in order to beat Partizan NIS and grab their first triumph of the season, otherwise they could quickly end up in trouble.
On the other side, Partizan NIS are coming to Belgrade after an important win battled against FMP in the city clash of Belgrade, but they are far from satisfied with their current win/loss ratio in the ABA League, as they have won three out of five games played so far, which does not put them in the Playoffs zone at the moment. That naturally means, that they will do their best in order to grab the win this time and get closer to the top of the standings.
How about tradition? Partizan NIS have been the more successful of the two sides so far in the regional competition, as they won 19 of their 30 games played. However, when playing in Zadar, the Dalmatians were leaving the court with smiles on their faces more oftenly, winning 9 out of their 14 games in Višnjik and Jazine.
Match-up in focus: Already in his first game played for Zadar, Akos Keller proved himself to be a great reinforcement for the Dalmatian side and he will try to prove it again, this time playing against Rashawn Thomas of Partizan NIS. Against Igokea, Keller had 10 points and 11 rebounds on his record, while Rashawn Thomas is averaging 12 points and 5 rebounds so far in the ABA League. Who will come out on top?
Head to head in the regional league: In total 11:19; In Zadar 9:5.