Igokea celebrate on the road in Zagreb
Friday, 06. December 2019 at 17:00
Igokea have scored their second win of the season, as they have edged out Cibona on the road in Zagreb.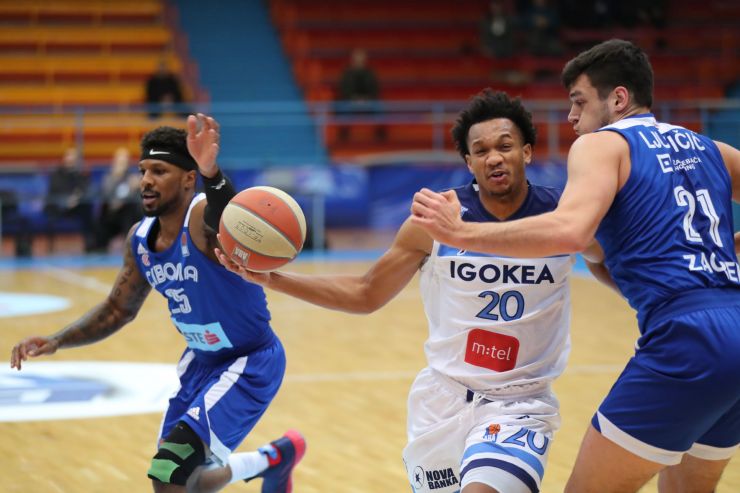 Rashad Vaughn (Photo: Cibona/Zeljko Baksaj & Domagoj Vranar & Gordan Lausic)
ABA League Round 10, Friday, 6.12.2019:
Cibona - IGOKEA 66:91 (20:17, 18:22, 15:32, 13:20)
Game recap: Cibona played their 10th round home game in Dom sportova, unlike most of the games, that they are playing in Dražen Petrović Arena and as it turned out, this court did not suit them as well as their usual home court, as their 3 games long winning streak is over and they have been defeated by Igokea, which have celebrated their second win of the season on the road in Zagreb. With this triumph, Igokea have escaped the danger zone at the very bottom of the standings, where, at least for now, Zadar stay alone. On the other side, Cibona continue their season in the ABA League with four wins on their record, near the middle of the standings.
Key moments: When the teams departed for the big break, Igokea were still ahead only by a point, but a true Igokea's rhapsody followed in the third quarter, when their 24:6 run between 23rd and 28th minute has converted the 41:41 score into an 18-point lead (47:65). The hunt for two points was over at that point for the home side.
Man of the match: Rashad Vaughn shined for Igokea, as he not only led the team in scoring with 24 points, but has also scored no less than six three-pointers, when it mattered the most – in the second half. He also had 3 rebounds, 3 assists, 2 steals and a valuation of 25 in 24 minutes spent on court. He is our man of the match.
Can't trick the stats: Igokea have outrebounded Cibona 35:21 and that's what turned the flow of the game their way.