MATCH OF THE ROUND: Can Budućnost VOLI extend their winning streak?
Friday, 13. December 2019 at 11:59
Budućnost VOLI have won no less than seven games in a row so far this season and they will try to extend their streak to eight in the eleventh round of the ABA League season. But, the task will not be easy, as they are travelling on the road to Belgrade to face FMP.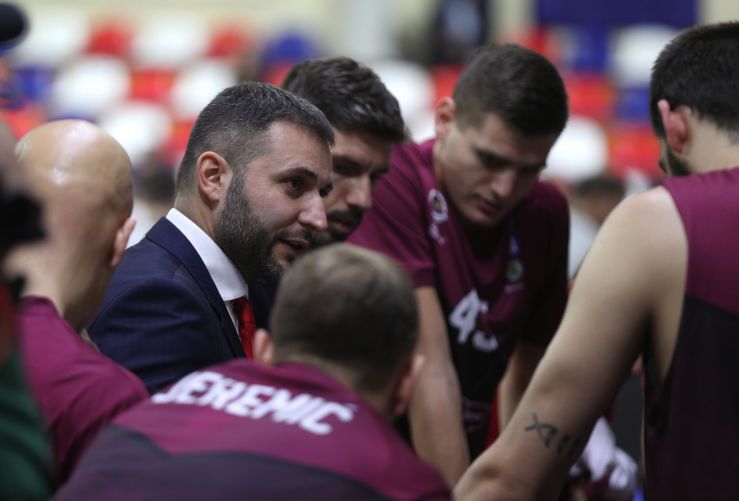 FMP team, Vladimir Jovanovic (Photo: FMP)
ABA League Round 11, Saturday, 14.12.2019:
Where? FMP Arena, Belgrade
Where? 20:00
Story of the game: On Saturday night, FMP will be hosting Budućnost VOLI at home in Belgrade in the derby game of the 11th Round of the ABA League Regular Season.
It is the clash of two teams with Playoffs ambitions, as Budućnost VOLI are coming to Belgrade as a first-placed team in the standings, which hasn't suffered a defeat in no less than seven rounds, while on the other hand, FMP has only slipped out of the Playoffs zone last round, when they lost to Crvena zvezda mts. The latter now hold the fifth place in the standings, while FMP, are just behind them, but with an equal number of triumphs on their record, while three teams that are sharing spots from 2 to 4, Partizan NIS, Cedevita Olimpija and Koper Primorska are only a win away.
So, basically, everything is possible right now, as both teams need victories to strengthen their position in the battle for the ABA League Playoffs. Who will win it? Let's watch the big game and find out!
Match-up in focus: Stefan Đorđević against Hassan Martin! The battle of fantastic power forwards is coming up in Belgrade. Currently, Stefan Đorđević is both the top scorer and rebounder of FMP, averaging 12.8 points and 5.7 rebounds per game, while Hassan Martin is the second best scorer and the top rebounder of Budućnost VOLI, averaging 10.9 points and 6.2 rebounds per game in the ABA League so far. Who will prevail this time around?
Head to head in the regional league: In total 7:11; In Belgrade 4:5.