Experience against youth in Tivoli
Friday, 20. December 2019 at 11:00
On Saturday night, Cedevita Olimpija will be facing Mega Bemax at home in Tivoli Sports Hall in Ljubljana.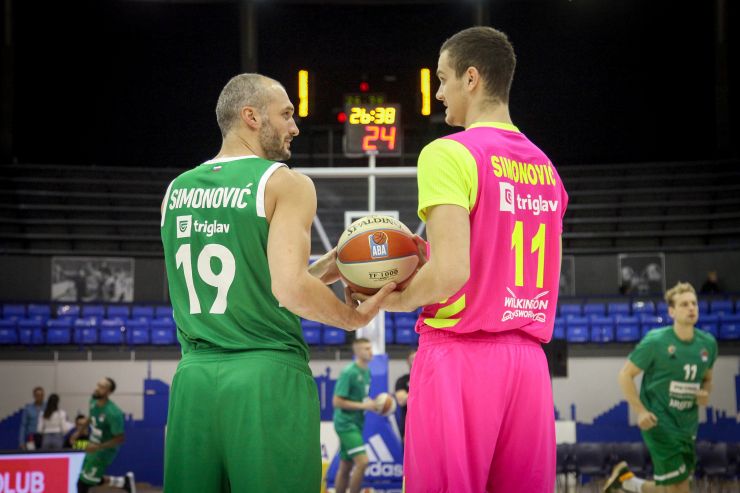 Marko Simonovic & Marko Simonovic (Photo: Mega Bemax/Ivica Veselinov)
ABA League Round 12, Saturday, 21.12.2019:
CEDEVITA OLIMPIJA – MEGA BEMAX
Where? Tivoli Sports Hall, Ljubljana
Where? 17:00
Story of the game: A lot will be at stake on Saturday night in Tivoli Sports Hall in Ljubljana, when Cedevita Olimpija will be hosting Mega Bemax.
Cedevita Olimpija are chasing the top of the ABA League standings and to succeed they will need a couple of points from the game against Mega Bemax. On the other hand, if Mega Bemax wish to escape the danger zone at the bottom of the ABA League standings, where they are currently placed, alongside Igokea and Zadar, they need to win as well.
Not only when looking at the standings, but also when looking at their latest shape, one gets the impression that the chances for the success of Cedevita Olimpija are bigger. They have won three of their last five games and won the last one, while Mega Bemax won one of five and lost two in a row. And, Cedevita Olimpija are also the hosts of the game, which usually represents the advantage as well.
However, basketball is full of surprises and it is not impossible to witness one on Saturday in Tivoli either.
Match-up in focus: It will be interesting to watch Blaž Mesiček, as he will come back to Ljubljana, where he used to play for Olimpija on two occasions, but this time on the other side. Since he joined Mega Bemax, Blaž has demonstrated his extraordinary level of talent and we believe that it will be no different this time. But will he manage overshadow his opponent Ryan Boatright this time around? Let's watch the game and find out!
Head to head in the regional league: In total 1:0; In Ljubljana 0:0.