Match of the round: Partizan NIS and Cedevita Olimpija battle for the top
Friday, 10. January 2020 at 11:59
On Saturday night, Štark Arena in Belgrade will likely be nicely filled, as one of the most important games of the season is coming for Partizan NIS and Cedevita Olimpija – a game in which they will be battling for top of the standings.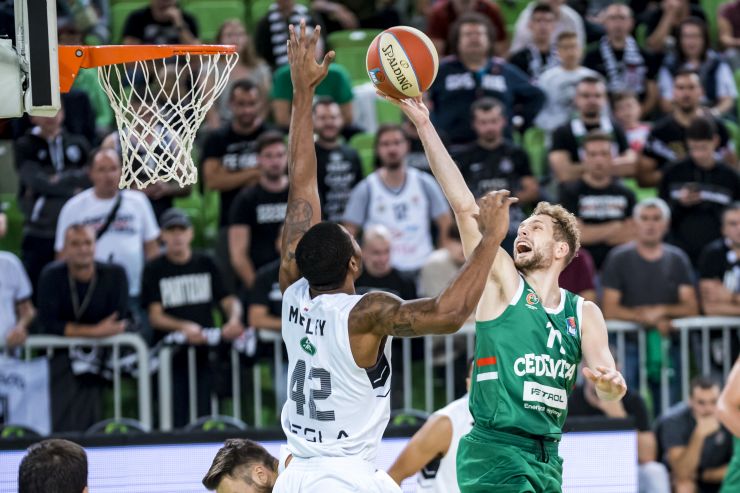 Jaka Blazic (Photo: Cedevita Olimpija/Jurij Kodrun)
ABA League Round 15, Saturday, 11.1.2020:
PARTIZAN NIS – CEDEVITA OLIMPIJA
Where? Štark Arena, Belgrade
When? 19:00
Story of the game: One of the most important games is coming up for both Partizan NIS and Cedevita Olimpija for this season, as the two sides will be battling for a position in the top of the standings on Saturday night in Štark Arena.
After 14 rounds, Partizan NIS are occupying the very top of the standings together with Budućnost VOLI and Cedevita Olimpija are just a win behind, so it is clear what kind of stake this game is bringing us.
The two sides have faced twice this season already. At the ABA Super Cup in Zagreb, Partizan NIS have prevailed in a trophy game, while in the first part of the regular season of the ABA League, Cedevita Olimpija have celebrated a triumph at home in Ljubljana.
It is clear therefore, that the game could go either way, with Partizan NIS perhaps having a slight role of favourites due to their home court advantage and the fact that they have won six games in a row in the ABA League, while Cedevita Olimpija have won three games out of their last five in the ABA League.
Match-up in focus: Two of perhaps the best point guards of the league at the moment will battle one against another in Belgrade. Marcus Paige of Partizan NIS will be facing Codi Miller-McIntyre of Cedevita Olimpija. While Paige is averaging 9.6 points per game as the third best scorer of Partizan NIS, Miller-McIntyre is averaging 14.6 points per game as the top scorer of Cedevita Olimpija. Who can lead his team to the victory this time around?
Head to head in the regional league: In total 0:1; In Belgrade 0:0.