Red-hot Mornar prevail over Koper Primorska
Saturday, 11. January 2020 at 20:59
The boys from Bar scored a very important home-court win.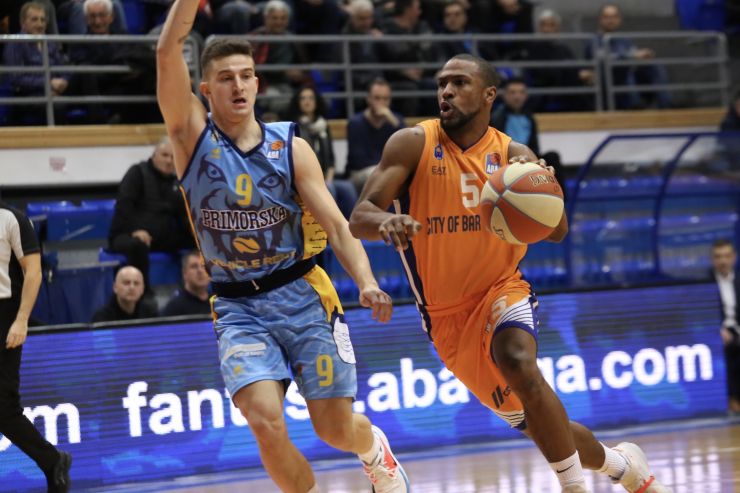 Derek Needham (Photo: Mornar/MEDIA Pro)
ABA League Round 15, Saturday, 11.1.2020:
MORNAR - Koper Primorska 99:84 (30:23, 23:19, 18:19, 28:23)
Game recap: Mornar scored a very important home-court win against Koper Primorska in Round 15 of the 2019/20 ABA League regular season. It is very important because Mornar are now tied with Koper Primorska on the ABA League standings, but it must be mentioned that Koper Primorska are still better in the head-to-head score against Mornar, as the Tigers won the match in the 1st part of the season by 18 points.
The race for the 2019/20 ABA League Playoffs will obviously be very exciting until the very end.
Key moments: Mornar have been in front throughout the whole match, but Koper Primorska managed to reduce the margin to just 6 points in the 3rd quarter – 63:57. Still, the visitors had no chance of making any major comeback in this match. After seeing that their rivals have come quite close, Mornar troops increased the pace once again and escaped to a double-digit lead until the end of the 3rd quarter - 71:61. In the rest of the match the home team tried really hard to win by more than 18 points, however Jacob Pullen and Derek Needham missed two three-pointers in the final minute.
Man of the match: Uroš Luković is not just the MVP of this game, but he is also currently leading the race for the MVP of the round. Mornar's center scored 16 points, had 6 rebounds, 4 blocks and 3 assists, while his overall index rating was 31.
Can't trick the stats: Mornar scored 17 three-pointers in this match, Koper Primorska made just 7.