Battle for Playoffs in Ljubljana – Cedevita Olimpija host Mornar
Friday, 17. January 2020 at 11:00
In the opener of the 16th round of the ABA League season, Cedevita Olimpija will be hosting Mornar at home in Stožice Arena in Ljubljana.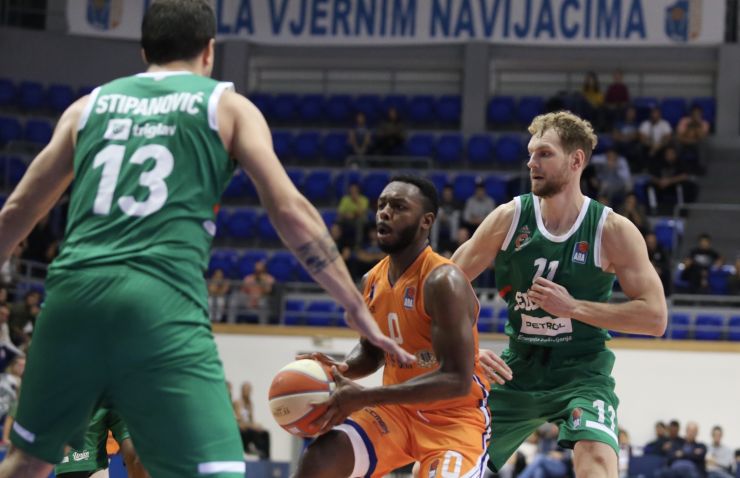 Jacob Pullen (Photo: Mornar/Media Pro)
ABA League Round 16, Saturday, 18.1.2020:
Where? Stožice Arena, Ljubljana
Where? 17:00
Story of the game: The opening game of ABA League Round 16 is going to be a big one, as Cedevita Olimpija will be hosting Mornar in the game that might be one of the crucial ones for each of the two teams in their battle for a spot in the ABA League Playoffs this season.
While Cedevita Olimpija are currently occupying the third place in the standings with 10 triumphs grabbed after 15 rounds, Mornar are down two victories in the sixth place. Both of them are still giving their best in order to qualify for the top four at the end of the regular season and the one that would win this one would already make a giant leap towards accomplishing their goal.
Both of the two squads have won 3 games out of their last 5 and while Mornar have won their last one, Cedevita Olimpija have lost their recent two games in a row.
The first time the two squads have met this season, Mornar have prevailed with the final score of 77:70. What will be the outcome of the 16th round clash?
Match-up in focus: We will be watching an exciting match-up by two of the best guards in the ABA League, as Codi Miller-McIntyre of Cedevita Olimpija will be facing Jacob Pullen of Mornar. While Codi Miller-McIntyre is currently the top scorer (14.3 points per game) and passer (4.6 assists per game), as well as third best rebounder (4.3 rebounds per game) of Cedevita Olimpija, Jacob Pullen is the top scorer (17.8 points per game) and top passer (5.3 assists per game) of Mornar. Which one will shine brighter this time?
Head to head in the regional league: In total 0:1; In Ljubljana 0:0.