MATCH OF THE ROUND: Belgrade clash coming up – FMP host Partizan NIS
Friday, 17. January 2020 at 11:59
In the 16th round of the ABA League season, the Belgrade clash is coming up, as FMP will be hosting Partizan NIS at home in FMP Arena.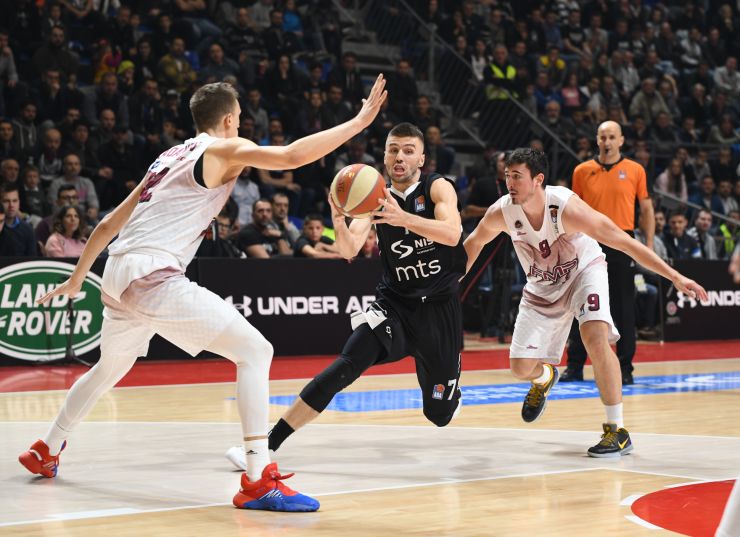 Nemanja Gordic (Photo: Partizan NIS)
ABA League Round 16, Saturday, 18.1.2020:
Where? FMP Arena, Belgrade
Where? 19:00
Story of the game: All eyes of the Belgrade basketball fans will be turned on to the FMP Arena on Saturday, as the home FMP squad will be hosting Partizan NIS in the city clash of the two squads that are aiming for a spot in the ABA League Playoffs.
Currently, Partizan NIS are standing alone at the top of the standings, with 12 victories on their record after 15 games played. FMP, on the other side, have won 9 games so far this season and are sharing the fourth place in the standings with Crvena zvezda mts. It's evident that both of them desperately need to win in order to stay on the right track in a pursuit for their goals – Partizan NIS in order to protect their first place and FMP in order to keep fighting for their Playoffs ticket.
It seems like Partizan NIS have been in a slightly better shape recently and that this could be their advantage, as they are on a 7 games long winning streak. On the other side, FMP have been defeated last round by Igokea and have won 3 out of their last five games.
What will the outcome of the clash be this time?
Match-up in focus: Stefan Đorđević against Rashawn Thomas! It will be exciting to watch the clash of the two fantastic big men, as Đorđević is currently the top scorer of FMP, averaging 12.5 points per game, while Thomas is averaging 10.6 points per game, being the top scorer of the black and white. And while Đorđević is currently also the top rebounder of FMP with 5.3 rebounds per game, Thomas is the second-best at Partizan NIS, averaging 5 rebounds per game.
Head to head in the regional league: In total 5:17; At FMP's home court 4:6.