Game-winner by Luković hands Koper Primorska a win in Ljubljana
Sunday, 26. January 2020 at 18:00
Local derby of Cedevita Olimpija and Koper Primorska was as exciting as it can get and was decided with a game-winning three-pointer by Marko Luković. Koper are returning from Ljubljana with two points on their record.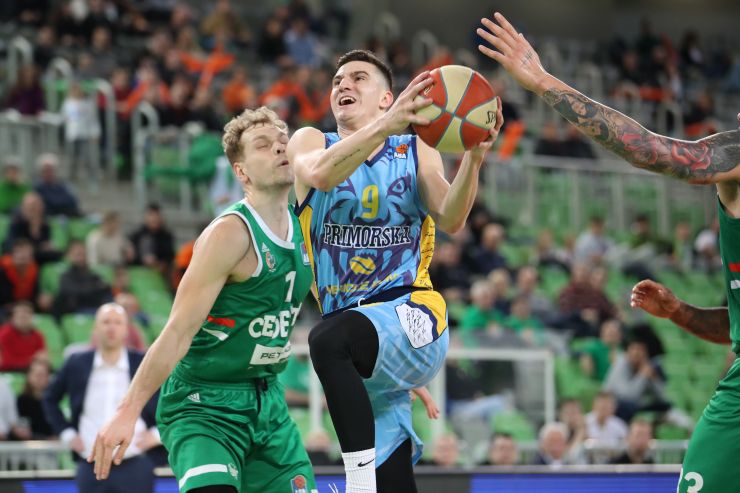 Nejc Baric (Photo: Cedevita Olimpija/Ales Fevzer)
ABA League Round 17, Sunday, 26.1.2020:
Cedevita Olimpija - KOPER PRIMORSKA 69:72 (19:23, 17:14, 22:18, 11:17)
Game recap: What a game in Stožice! In a local derby of Cedevita Olimpija and Koper Primorska, the guest have come up with a late-game game-winner and got their sweet revenge for high defeat in the first half of the season at home in Koper. This is an extremely important win, which keeps Koper Primorska in the battle for Playoffs, as they now hold 10 victories in their hands, just as many as Cedevita Olimpija.
Key moments: Everything that the two teams have been working for during the 40 minutes has meant nothing, as it was still anybody's game until that late-game shot by Marko Luković, which decided the winner. That's everything you need to now about the development of the game at the end.
Man of the match: Marko Luković might have come up as only the second-best scorer of Koper Primorska this time around, as he scored 15 points, but he scored a bucket that meant everything for the visiting side. He has also collected 7 rebounds, 2 assists, 1 steal and a valuation of 12. He is our man of the match.
Can't trick the stats: Koper Primorska have been shooting from the field 43% (28/65), while Cedevita Olimpija were shooting 34.5% (20/58). That's what was crucial for the success of the guests this time.