Igokea prevailed over Krka in Laktaši
Sunday, 09. February 2020 at 20:00
On Sunday night, Igokea have prevailed over Krka at home in Laktaši and escaped the danger zone near the bottom of the ABA League standings.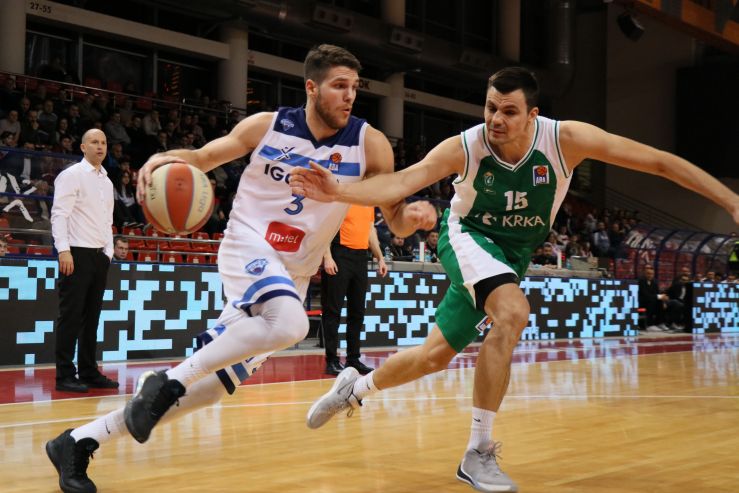 Djordje Simeunovic (Photo: Igokea/Nikola Vuruna)
ABA League Round 19, Sunday, 9.2.2020:
IGOKEA - Krka 92:82 (30:19, 17:26, 18:21, 27:16)
Game recap: Igokea have many reasons to celebrate after the Sunday night clash against Krka. Not only have they achieved a new win and got their revenge for the defeat in Novo mesto from the first half of the ABA League season, but they have also achieved their seventh win of the season, which moves them away from the danger zone near the bottom of the ABA League standings. They are now 3 wins above last placed Zadar and 2 ahead of the 11th placed Mega Bemax and enjoy their comfortable spot in the middle of the standings. On the other side, Krka continue their season with 6 wins on their record and will continue their struggle to avoid being relegated to ABA League 2 or a place in the Qualifiers.
Key moments: After Igokea went up by 9 points with 5 minutes remaining on the game clock, Krka made it anybody's game again with 3 minutes remaining (79:77). However, half a minute later, Đorđe Simeunović scored a three-pointer, which seems to be the crucial turning point of the game, as Igokea went up 82:77 and did not allow Krka to come close again. They entered the last minute with a 7-point lead (87:80) and it's been too late for Krka to bounce back once more.
Man of the match: Rashad Vaughn was phenomenal this time for Igokea, as he contributed 34 points (25 in the first half), 1 rebound, 2 assists, 2 steals and a valuation of 32 in 37 minutes spent on court. He was shooting three-pointers 8/12 (75%) and scored 7 of them already in the first half. It's worth mentioning that in entire regional league history, only 6 players have scored more than 8 three-pointers in a single game, which makes Vaughn's achievement shine even more.
Can't trick the stats: As one could guess from the previous paragraph, Igokea have shined from the perimeter, as they were shooting three-pointers on the night 15/22 (68%). That's what turned the game's outcome their way.