Season goes on – Krka host Partizan NIS
Friday, 28. February 2020 at 11:00
The ABA League season is back! Krka and Partizan NIS will be opening the Round 20 with their encounter in Novo mesto, which will give many answers to both sides ahead of the final two rounds.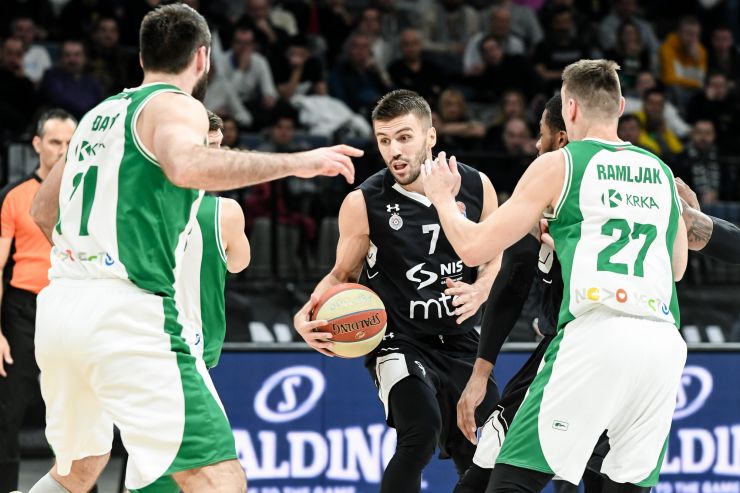 Nemanja Gordic (Photo: Partizan NIS)
ABA League Round 20, Saturday, 29.2.2020:
Where? Leon Štukelj Sports Hall, Novo mesto
Where? 18:00
Story of the game: In the opening game of the ABA League Round 20, Krka will be hosting Partizan NIS in Leon Štukelj Sports Hall, Novo mesto. The two sides will be competing to get a step closer to reaching their goals this season.
While Krka are in a battle to avoid the bottom of the standings, where things are looking favourable for them at the moment, but not at all finished, Partizan NIS are trying to do everything in their powers in order to finish the regular season at the top of the ABA League standings.
And it's no secret – both of the two teams need victories in order to stay on their right track.
Partizan NIS would, in case of the victory, escape the second-placed Budućnost VOLI by two victories, with the latter one still having the derby game against Mornar ahead of them this round. On the other side, a win would put Krka three wins above Zadar and two above Mega Bemax, which would almost secure them another season in the regional elite.
Of course, most of the basketball experts expect the victory of the guests, as they are currently atop of the standings, but upset is far from impossible, as Krka have already downed big names in Novo mesto this season, including reigning champions Crvena zvezda mts and last season's finalists Budućnost VOLI.
How will it be this time?
Match-up in focus: Glenn Cosey against Ognjen Jaramaz! The two top scorers of both sides will be battling one against another at the point guard position and it will be a delight to watch. While Cosey is currently averaging 16.9 points per game in the ABA League, Jaramaz is averaging 10.6. And while Cosey is also the top passer of Krka with 4.6 assists dished out per game, Jaramaz is averaging 2.2 per game. Who will lead his team to the win this time?
Head to head in the regional league: In total 4:15; In Novo mesto 2:7.