Partizan NIS celebrate in Novo mesto
Saturday, 29. February 2020 at 18:00
In the opening game of the ABA League Round 20, Partizan NIS have convincingly triumphed over Krka and achieved their second win in a row.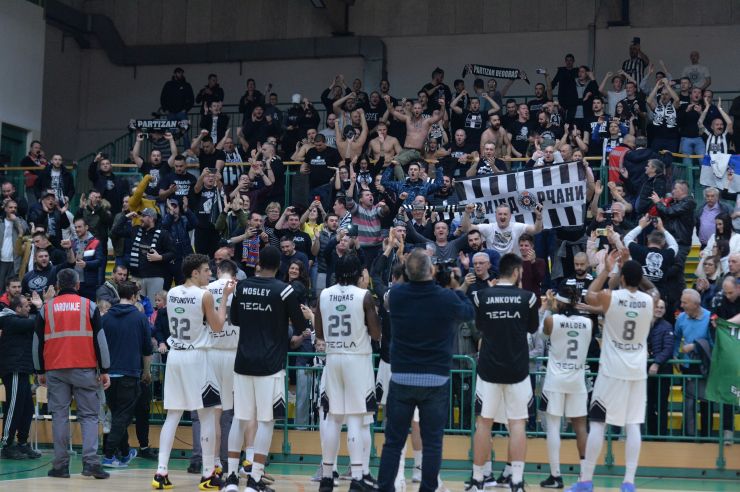 Partizan NIS fans (Photo: Krka/Drago Perko/kosarka.si)
ABA League Round 20, Saturday, 29.2.2020:
Krka - PARTIZAN NIS 61:76 (15:25, 12:22, 11:11, 23:18)
Game recap: Partizan NIS are determinedly marching toward their goal – reaching the first place after the end of ABA League Regular Season. They have achieved their 16th win of the season by beating Krka convincingly on the road in Novo mesto, which puts them 2 wins above the second-placed Budućnost VOLI, that still have their 20th round game coming up. On the other side, Krka continue their battle to avoid the danger zone at the bottom of the ABA League, as they hold 6 victories in their hands, two more than the last placed Zadar.
Key moments: Partizan NIS did their job early in the game, as they have dominated on the court in the first half and departed to the big break with 20 points of advantage (47:27). That's when the winners of the game were decided.
Man of the match: Stefan Birčević of Partizan NIS shined this time, as he led his team towards another win. He had 17 points, 5 rebounds, 1 steal and a valuation of 25. He is our man of the match.
Can't trick the stats: Partizan NIS simply dominated the glass with a supremacy in rebounding 37:24. That's what gave them the win.