Important win for Mega Bemax over Igokea
Sunday, 01. March 2020 at 11:59
Mega Bemax have achieved an important home-court win over Igokea in Ranko Žeravica Sports Hall in Belgrade.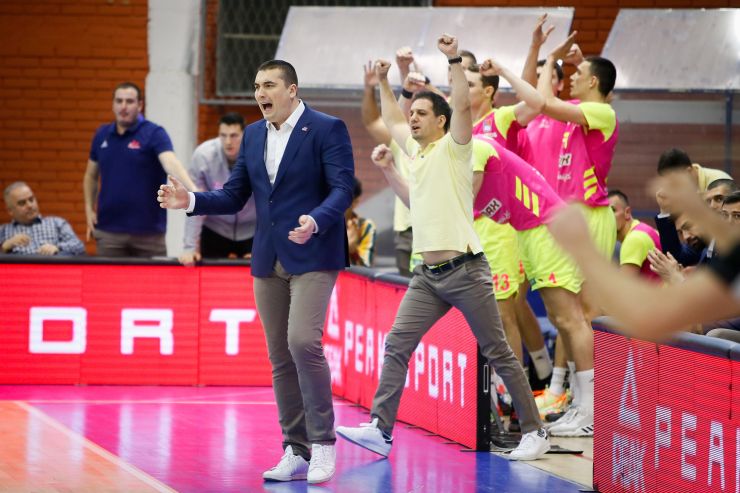 Mega Bemax team (Photo: Mega Bemax/Ivica Veselinov)
ABA League Round 20, Sunday, 1.3.2020:
MEGA BEMAX - Igokea 87:76 (30:18, 19:22, 20:28, 18:8)
Game recap: Mega Bemax fans have every reason to celebrate, as their favourite squad has beaten Igokea at home in Ranko Žeravica Sports Hall in Belgrade, grabbed their sixth win of the season and escaped the very bottom of the standings, where Zadar now stand alone with 5 triumphs on their record. In an attractive game, Mega have been in front for the majority of the clash and in the end deservedly triumphed. Igokea remain a step above Mega Bemax in the standings, with 7 victories on their record after 20 rounds.
Key moments: Mega Bemax were already up by 19 points in the 12th minute, but Igokea managed to come up with a major comeback in the third quarter, which has even brought them the lead. It remained anybody's game all until the 37th minute, when the score was still tied at 76:76. However, that's when Mega Bemax' 10:0 run, completed by a furious dunk by Edin Atić, followed over the next 2 minutes, which got them ahead 86:76. The battle for a pair of points was over.
Man of the match: Kendrick Perry led the way in scoring for Mega Bemax this time, as he steered his squad towards the victory with 19 points, 7 assists, 3 rebounds, 3 steals and a valuation of 25. He is our man of the match.
Can't trick the stats: Mega Bemax were shooting 3-pointers 41% (13/32), while Igokea were shooting them 30% (6/20). That's what was the major difference between the two squads in the end.