Red-hot Cibona down Igokea on the road
Friday, 06. March 2020 at 19:59
The visitors scored 17 three-pointers in this match!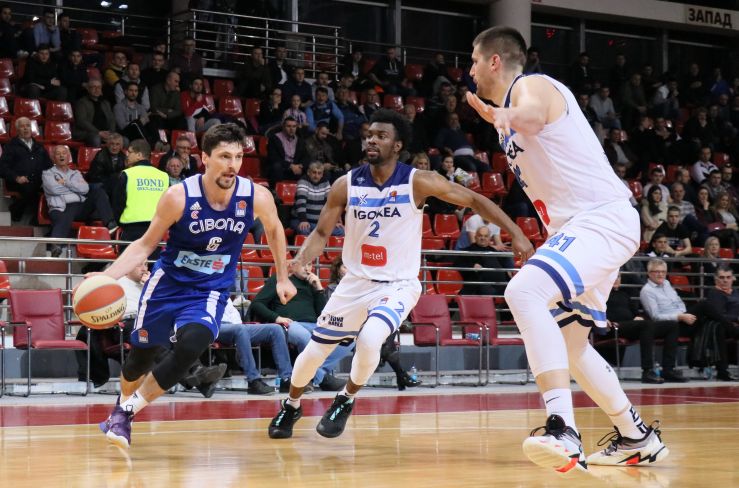 Toni Katic (Photo: Igokea/Nikola Vuruna)
ABA League Round 21, Friday, 6.3.2020:
Igokea - CIBONA 84:97 (27:23, 21:33, 19:24, 17:17)
Game recap: Cibona have scored a huge away win in the Round 21 opener as they defeated Igokea on the road. The Zagreb side have therefore made a major step away from the relegation zone and this win might secure them the ABA League status for the next season.
Cibona scored 17 three-pointers in this match and has therefore tied the 2019/20 season record in most 3-pointers scored in a single game. Previously in this season, Mornar had twice managed to score 17 three-pointers in a single game.
Key moments: On 3 minutes before the end of the 3rd quarter Igokea reduced the gap to just 6 points –71:65, however Cibona responded immediately by making the crucial 9:2 run which gave them a comfortable 13-point lead in front of the last quarter – 80:67.
Man of the match: Matic Rebec was once again the main engine of Cibona squad. This 25-year old point guard scored 16 points this evening (all of them in the 1st half), while he also had 5 assists and 3 rebounds. His overall index rating was 24.
Can't trick the stats: We have already written that Cibona scored 17 three-pointers tonight. The visitors played this game with 11 players, while 9 of them have scored at least 1 three-pointer! Simply, Cibona's squad had a fantastic shooting night.