#ABAMemories: The day when Partizan Igokea celebrated in Belgrade Arena
Saturday, 18. April 2020 at 13:30
Today we remember the day, when Partizan Igokea have triumphed in the regional league Final, back in 2009, over Cibona in the Belgrade Arena and won their third consecutive trophy.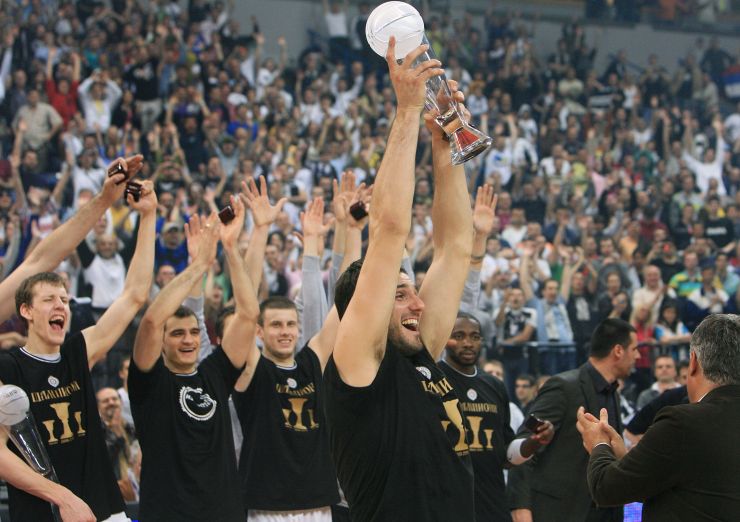 It was 18 April 2009 and all eyes of the basketball fans from the ABA League region were set on the Belgrade Arena, where Partizan Igokea have taken on Cibona in the Final of the Final Four tournament.
The squad led by head coach Duško Vujošević from the bench and with the players Milenko Tepić, Strahinja Milošević, Aleksandar Rašić, Uroš Tripković, Novica Veličković, Stephane Lasme, Vukašin Aleksić, Čedomir Vitkovac, Petar Božić, Žarko Rakočević, Jan Vesely and Slavko Vraneš on court, were the main candidates for the championship rings all season long, as they have lifted the trophy in the past two seasons and they have also finished the Regular Season in the first place with only three defeats in the 26 rounds.
As the Final Four tournament has begun, Partizan Igokea have first faced Crvena zvezda in the Semi-finals and got away with the 64:58 win. Milenko Tepić was the one that led the way in scoring with 14 points and Stephane Lasme had 13. On the side of Zvezda, Elmedin Kikanović was the most efficient with 15 points and Steven Marković scored 10.
The black and white have advanced to the Final, where they were about to face Cibona, that have outgunned Hemofarm Stada 77:65 in the Semi-finals.
Belgrade powerhouse have demonstrated a dominant performance, beating Cibona 63:49. The black and white led by 11 points at halftime (38:27) and maintained their advantage until the end of the clash, when they have celebrated a convincing win.
Novica Veličković had 17 points for the champions, as he led the way in scoring, while Stephane Lasme had 11 points. Milenko Tepić and Uroš Tripković have contributed 8 points apiece. For Cibona, Alan Anderson had 22 points.
2008/09 ABA League Final, Saturday 18 April 2009:
PARTIZAN IGOKEA - Cibona 63:49 (17:9, 21:18, 9:16, 16:6)
Partizan scorers: Tepić 8, Milošević 1, Rašić, Tripković 8, Veličković 17, Lasme 11, Aleksić, Vitkovac, Božić 1, Rakočević 6, Vesely 7, Vraneš 4.
Cibona scorers: Homan 11, Kus, Longin, Prkačin, Troha, Vukušić 6, Andrić, Calloway 7, Zubčić, Princ, Rozić 3, Anderson 22.