#ABAMemories: Partizan's celebration in Ljubljana – part one
Sunday, 26. April 2020 at 11:00
On this day in 2008, Partizan Igokea have triumphed in the Final of the regional league Final Four tournament in Ljubljana over Hemofarm and won their second ABA League glory.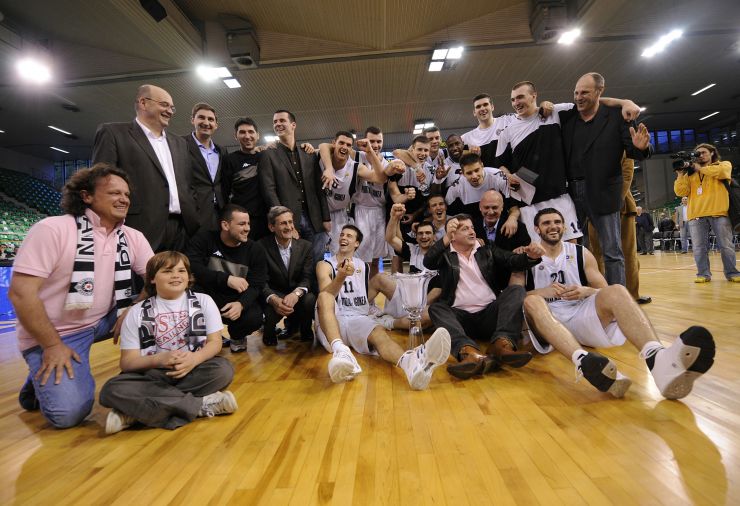 The 26 April of 2008 will remain in the regional league history books, written as the day when Partizan Igokea won the trophy, the second one for the Belgrade club in the regional competition history.
The black and white, led by head coach Duško Vujošević from the bench, have entered the season as the trophy holders and they have been confirming their role of the frontrunners for the trophy all season long. They have finished the Regular Season in the first place with 24 wins in 26 rounds, 6 more than the second-placed Zadar.
Belgrade powerhouse have reached the Final Four Tournament, that took place in the Tivoli Hall in Ljubljana by edging out Cibona in the best of three format Quarter-finals with the score of 2:0 in the victories.
At the big tournament, they have met the hosts Union Olimpija at the start in the Semi-finals and got away with a win after a dramatic game and a tight 94:90 win. For Partizan Igokea, Nikola Peković demonstrated a heroic performance, as he finished the game with 31 points and a valuation of 37. Uroš Tripković added 17 points, Milton Palacio 14 and Dušan Kecman 13. For Union Olimpija on the other hand, Maurice Bailey had 24 points, while rising star Goran Dragić and Ronell Taylor had 16 apiece.
The steamroller entered the final in which Milton Palacio, Milenko Tepić, Dušan Kecman, Dejan Borovnjak, Uroš Tripković, Novica Veličković, Nikola Peković, Čedomir Vitkovac, Marko Đurković, Petar Božić, Strahinja Milošević and Slavko Vraneš were about to face Hemofarm, that were better than Zadar with the score of 81:72 in the Semi-final.
This time, Duško Vujošević's guys were far more convincing on court than in the Semi-final attempt and claimed the trophy, triumphing 69:51, after they have already been up by 13 points by halftime. Nikola Peković dominated the paint once more, as he had 22 points and 7 rebounds and Uroš Tripković (13) and Slavko Vraneš (12) were the ones to follow him. On the other side, Stefan Marković had 11 points on his record and Rawle Marshall 10.
2007/08 ABA League Final, Saturday 26 April 2008:
PARTIZAN IGOKEA - Hemofarm 69:51 (18:15, 22:12, 19:11, 10:13)
Partizan scorers: Palacio 9, Tepić 2, Kecman 2, Borovnjak, Tripković 13, Veličković 6, Peković 22, Vitkovac 3, Đurković, Božić, Milošević, Vraneš 12.
Hemofarm scorers: Pavković 7, Despotović 2, Simonović, Joksimović 5, Božović 5, Marković 11, Savović, Borisov 2, Marjanović 9, Marshall 10, Mačvan, Vukosavljević.