#ABAMemories: Maccabi Electra's glory
Thursday, 30. April 2020 at 09:00
On this day, exactly eight years ago, Maccabi Electra of Tel Aviv have lifted their first and only ABA League trophy and have become one of the nine teams that can so far be proud of this achievement, the biggest one in the regional club basketball.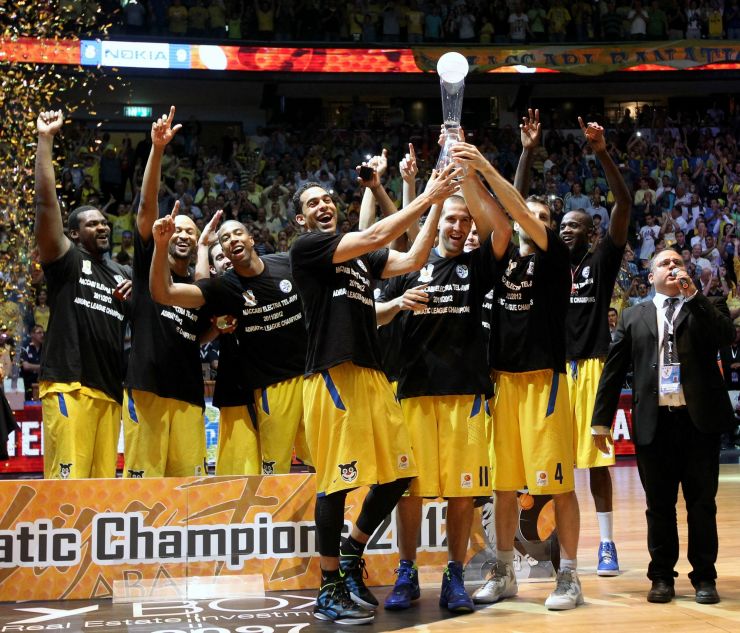 Maccabi of Tel Aviv have participated twice in the ABA League, in the 2002/03 season and in the 2011/12 season and in their second episode amongst the regional elite they have achieved their goal and climed atop of the competition.
After Maccabi have been unsuccessful in hunting the ABA League trophy in the 2002/03 season, when Zadar have defeated them in the season Final and won the league champions title, the Israeli powerhouse have returned to the competition in the 2011/12 season and finally achieved their goal of claiming another trophy for their trophy cupboard.
After a successful campaign in the Regular Season, in which they have again finished atop of the standings, Maccabi Electra have headed into the Final Four tournament as the hosts in their Nokia Arena in Tel Aviv.
After they have beaten Budućnost VOLI 82:60 in the Semi-final game with 18 points of Lior Eliyahu and 17 by Keith Langford, they have went on to face the second-placed team in the regular season – Cedevita of Zagreb – in the Final.
With David Blatt on the bench and Theodoros Papaloukas, Richard Hendrix, Devin Smith, David Blu, Lior Eliyahu, Guy Pnini, Tal Burstein, Yogev Ohayon, Shawn James, Sofoklis Schortsanitis and Keith Langford on court, the hosts have quickly pulled away, being up by 16 points after the opening quarter. In the remainder of the game, Cedevita have cut the game and come closer, but could not prevent the victory of Maccabi Electra with the final score of 87:77.
Keith Langford shined in the Final with 21 points on his record, while Richard Hendrix contributed 16 and David Blu 13.
It has definitely been a sweet victory for the Israeli basketball fans, but especially coach David Blatt and players Tal Burstein and David Blu, who have also been members of the 2002/03 generation, that have been defeated in the regional league Final in Tivoli Sports Hall by Zadar and the one they would never forget.
2011/12 ABA League Final, Monday, 30 April 2012:
MACCABI ELECTRA - Cedevita 87:77 (27:11, 12:12, 25:24, 23:30)
Maccabi Electra scorers: Papaloukas 4, Hendrix 16, Smith 9, Blu 13, Eliyahu 8, Pnini 6, Burstein, Ohayon 6, James, Schortsanitis 4, Langford 21.
Cedevita scorers: Draper 8, Opačak, Mustapić, Petrović 6, Vukušić 14, Bagarić 2, Bilan 2, Princ, Owens 13, Warren 24, Car, Baždarić 8.