#ABAMemories: The day that Hemofarm claimed the top
Friday, 01. May 2020 at 10:00
In the 2004/05 season Hemofarm have won the regional league trophy and they did it on this day, the 1 May, back in the 2005.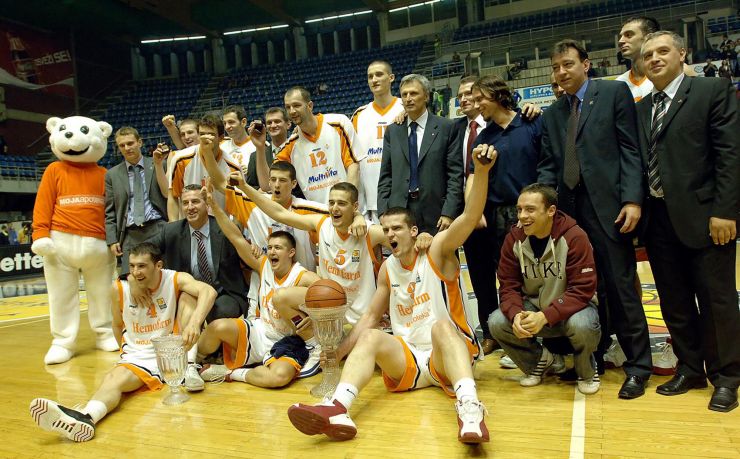 It has been an exceptional season for Hemofarm, a club from a small town of 35,000 inhabitants of Vojvodina region in Serbia. The team that is nowadays known as KK Vršac, have been amazing already during the regular season, when they have finished on the first place with 22 victories in 30 rounds, 2 wins above the competition that followed – Partizan Pivara MB, Crvena zvezda, Union Olimpija and FMP Reflex.
However, the most important part came in the final phase of the competition, which took place as a Final Eight tournament, that took place in the Aleksandar Nikolić Sports Hall in Belgrade.
On the way towards the final, the squad led by Željko Lukajić from the bench and with the roster composed by Nebojša Bogavac, Bojan Bakić, Miljan Rakić, Jasmin Hukić, Antonio Meeking, Petar Popović, Saša Vasiljević, Nenad Mišanović, Savo Đikanović, Milenko Topić, Boris Savović and Miloš Borisov, eliminated Bosna ASA BHT in the Quarter-finals (84:69) and FMP Reflex in the Semi-finals (88:80).
In the big Final, they got to face Partizan Pivara MB and they have prevailed with the final score of 89:76, after pulling away 18:13 in the opening quarter and staying in front throughout the entire course of the clash.
Nebojša Bogavac was the dominant figure on court for Vršac this time around, as he scored 22 points, while Milenko Topić (16 points), Bojan Bakić (13), Savo Đikanović (13) and Petar Popović (11) also finished the game in double-digits, For Partizan NIS, Kosta Perović had 19 points, while Uroš Tripković followed with 16. Luka Bogdanović added 11 points and Dejan Milojević 10.
Vršac have had a couple of successful seasons in the regional competition, in which they have participated for eight seasons. They have reached the final phase of the competition six times. Four times they have ended the season in the Semi-finals, while they have also been the runners-up in the 2007/08 season. However, their brightest memory of the regional club elite will for sure remain the 2004/05 season, when they have reigned at the very top.
2004/05 ABA League Final, Sunday 1 May 2005:
HEMOFARM – Partizan Pivara MB 89:76 (18:13, 23:25, 24:18, 24:20)
Hemofarm scorers: Bogavac 22, Bakić 13, Rakić, Hukić 8, Meeking, Popović 11 Vasiljević 6, Mišanović, Đikanović 13, Topić 16, Savović, Borisov.
Partizan Pivara MB scorers: Tripković 16, Bogdanović 11, Božić, Perović 19, Šuput 4, Samardžiski 3, Milojević 10, Avdalović 3, Borovnjak 2, Veličković, Bakić 4, Stepp 4.