#ABAMemories: Second trophy for Crvena zvezda
Saturday, 02. May 2020 at 11:00
On this day, four years ago, Crvena zvezda Telekom have swept the ABA League Finals, to come up with their second trophy in the regional competition.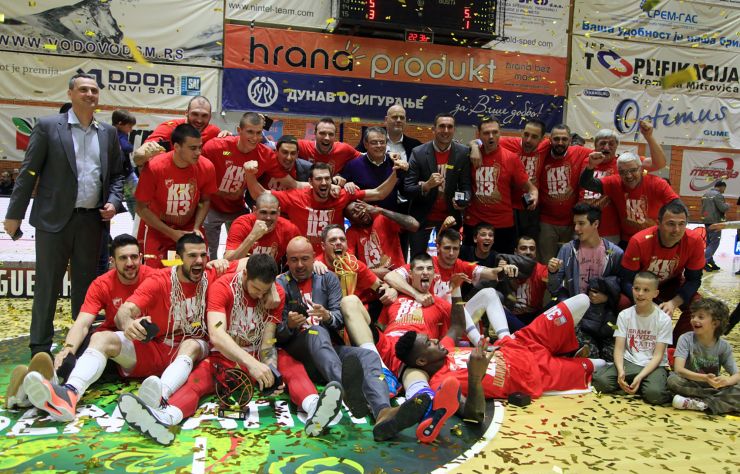 (Photo: Mega Bemax/Ivica Veselinov)
Back in 2016, Crvena zvezda Telekom have made a big achievement, as they have become back to back regional club champions. The squad, led from the bench by head coach Dejan Radonjić and with players such as Tarence Kinsey, Nikola Rebić, Nemanja Dangubić, Luka Mitrović, Branko Lazić, Vasilije Micić, Marko Simonović, Marko Gudurić, Stefan Jović, Quincy Miller, Maik Zirbes and Vladimir Štimac on court, have edged out Mega Bemax in the Finals, to claim their second regional league trophy in their club's history.
It has not really been a dream season all the way for the Belgrade powerhouse, as they have not finished the Regular Season as the best-placed team. Budućnost VOLI took the first place after the Regular Season with 23 wins out of 26 games played and Crvena zvezda Telekom followed in the second place with 20 victories grabbed. Cedevita followed with 19 triumphs in third place and Mega Leks with 17 in the fourth.
But Playoffs have confirmed once more that they can be extremely unpredictable. The frontrunners after the Regular Season – Budućnost VOLI – got burned already in the Semi-finals, when Mega Leks have prevailed 2:0 over them and qualified for the Finals. Crvena zvezda Telekom, that have also swept their Semi-final series against Cedevita 2:0 (97:88 and 65:73), have therefore gained the home court advantage for the Finals, where they were about to face the fourth-placed team after the regular season – Mega Leks.
The Finals turned out not to be any tougher task for the red and white of Belgrade, than the Semi-finals were and they only needed three games to lift the trophy in a best of five series with the score s of 95:88, 93:74 and 49:61.
Stefan Jović became the Playoffs MVP, as he shined throughout the Playoffs, but especially in the Finals. In Game 1, Jović had 11 points and 9 assists (overall index rating 15); In Game 2, he had 9 points and 9 assists (overall index rating 20); Finally, in Game 3, Jović had 3 points and 6 assists (overall index rating 12).
This was the second consecutive trophy for Crvena zvezda of Belgrade, but the streak was not over yet for them, as more was about to follow in the next season.
2015/16 ABA League Finals, Round 1, Thursday, 28.4.2016:
CRVENA ZVEZDA TELEKOM – Mega Leks 95:88 (27:25, 21:20, 20:25, 27:18) STATS
Round 2, Saturday, 30.4.2016:
CRVENA ZVEZDA TELEKOM – Mega Leks 93:74 (26:21, 26:18, 20:21, 21:14) STATS
Round 3, Monday, 2.5.2016:
Mega Leks – CRVENA ZVEZDA TELEKOM 49:61 (16:24, 18:13, 6:9, 9:15) STATS