Roko Leni Ukić moves to Cedevita Olimpija
Thursday, 16. July 2020 at 10:22
Cedevita Olimpija will begin the new 2020/21 season even stronger at the playing position of point guard. The experienced Roko Leni Ukić signed a one-year-deal with the Ljubljana's club.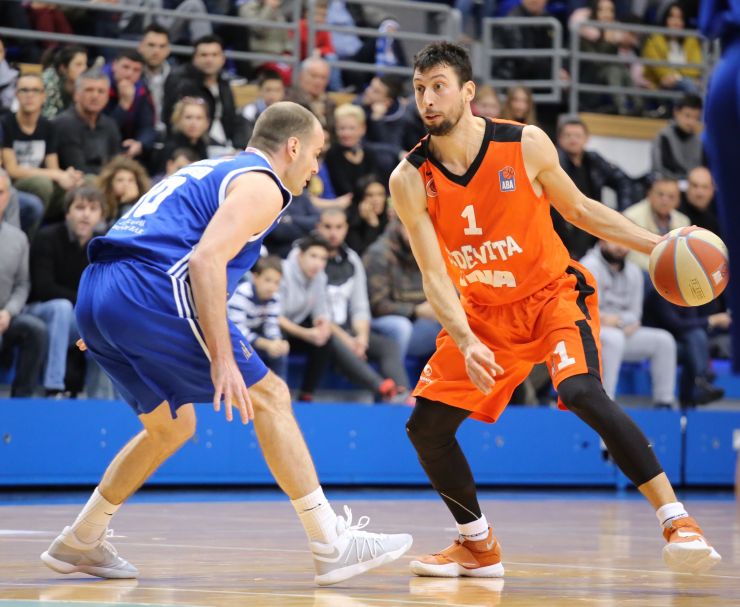 Roko Leni Ukic (Photo: Mornar/Media Pro)
Roko Leni Ukić, an experienced and long-time Croatian national team player, who is also the captain of Croatia, is a new addition to Cedevita Olimpija at the playing position of point guard. Ukić spent the past two seasons in France, and in the 2017/18 competition season he wore the jersey of the then Zagreb Cedevita for the second time in his career. Ukić also played for Cedevita in the 2014/15 season.
The game creator with a lot of experience, who measures 196 centimeters in height, has gained experience in various competitions at the highest level in his 20-year career, and he also spent two seasons in the NBA League, among other things. In the strongest league in the world, he wore the Toronto Raptors jersey in the 2008/09 season, and a season later he defended the Milwaukee Bucks colors.
Ukić spent as many as nine seasons in the elite Euroleague and played a total of 154 matches. He averaged 8.6 points, 2.6 assists and 2.1 rebounds per game. He showed his best performances in the jersey of Fenerbahce in the 2010/11 season, when he averaged 13.2 points and 3.5 assists per game. Ukić also spent three seasons in the 7Days EuroCup, where he wore the jerseys of Split and Cedevita, and in 25 matches in which he played in the European Cup, he averaged 10.1 points, 4.3 assists and 2.3 rebounds.
An enviable number of trophies can be found in Ukić's home showcase. He won three titles of Croatian national champion, and two titles of Turkish and Greek national champion. At the same time, the Croatian national team has three Croatian cup titles on its account, and two cup titles each from Spain, Turkey and Greece. With Cedevita, he also became the ABA League Super Cup champion in 2017.
In the 2019/20 season, Roko Leni Ukić played in 21 matches in the Antibes jersey in the second French division and averaged 12.4 points, 4.4 assists and 2.3 rebounds per game in 26.7 minutes per game.
As he agreed on cooperation with Cedevita Olimpija, Roko Leni Ukić told: "I am really happy to be a Cedevita player for the third time in my career, and a Cedevita Olimpija player for the first time. I thank the management of the club and the members of the coaching staff for seeing me as someone who can help the whole project and the team I sincerely believe in. I'm a big optimist and can't wait to get to work. I hope that the coronavirus pandemic will bypass us, and that it will save us worries, and that we will have the opportunity to compete in all competitions. I think we will be competitive in the coming season, and I am looking forward to coming to Ljubljana. I am physically and mentally ready for the start of the season. I hope that we will hang out with the fans in large numbers in Stožice, and have a successful season."
--------------------
Roko Leni Ukić okrepil Cedevita Olimpijo
Cedevita Olimpija bo v novo tekmovalno sezono 2020/21 na položaju organizatorja igre krenila okrepljena s hrvaškim reprezentantom, Rokom Lenijem Ukićem, ki je z ljubljanskim klubom podpisal enoletno pogodbo.
Roko Leni Ukić, izkušeni in dolgoletni hrvaški reprezentant, ki je tudi kapetan hrvaške moške članske reprezentance, je nova okrepitev Cedevite Olimpije na položaju organizatorja igre. Ukić je minuli dve sezoni preživel v Franciji, v tekmovalni sezoni 2017/18 pa je še drugič v svoji karieri nosil dres takratne zagrebške Cedevite. Za Cedevito je Ukić namreč igral tudi v sezoni 2014/15.
Organizator igre, ki v višino meri 196 centimetrov, je v svoji 20-letni karieri izkušnje pridobival v različnih tekmovanjih na najvišji ravni, dve sezoni pa je med drugim preživel tudi v Ligi NBA. V najmočnejši ligi na svetu je v sezoni 2008/09 nosil dres Toronto Raptors, sezono kasneje pa je branil barve Milwaukee Bucks.
Ukić je v elitni Evroligi preživel kar devet sezon in skupno odigral 154 tekem. V povprečju je dosegal 8,6 točke, 2,6 asistence in 2,1 skoke na tekmo. Svoje najboljše predstave je prikazal v dresu turškega Fenerbahceja v sezoni 2010/11, ko je beležil 13,2 točke ter 3,5 asistence na tekmo. Tri sezone je Ukić preživel tudi v 7Days EuroCupu, kjer je nosil dresa Splita in Cedevite, na 25 tekmah, na katerih je zaigral v Evropskem pokalu, pa je v povprečju beležil 10,1 točke, 4,3 asistence in 2,3 skoke.
V Ukićevi domači vitrini lahko najdemo zavidljivo število trofej. Osvojil je tri naslove hrvaškega državnega prvaka, ter po dva naslova turškega in grškega državnega prvaka. Obenem ima hrvaški reprezentant na svojem računu še tri naslove hrvaškega pokalnega prvaka, ter po dva pokalna naslova iz Španije, Turčije in Grčije. S Cedevito je leta 2017 postal tudi Superpokalni prvak Lige ABA.
V tekmovalni sezoni 2019/20 je Roko Leni Ukić v dresu Antibesa v drugi francoski diviziji zaigral na 21 tekmah in v 26,7 minutah na tekmo v povprečju dosegal 12,4 točke, 4,4 podaje in 2,3 skoke na tekmo.
Roko Leni Ukić, je ob prihodu k Cedevita Olimpiji dejal: "Resnično sem zelo vesel, da sem še tretjič v svoji karieri postal igralec Cedevite, in prvič košarkar Cedevite Olimpije. Zahvaljujem se vodstvu kluba in članom strokovnega štaba, da so v meni videli nekoga, ki lahko pomaga celotnemu projektu in ekipi, v katero iskreno verjamem. Sem velik optimist in komaj čakam, da začnemo z delom. Upam, da nas bo pandemija koronavirusa obšla, in da nam bo prihranila skrbi, ter da bomo imeli možnost tekmovati v vseh tekmovanjih. Menim, da bomo v prihajajoči sezoni konkurenčni, in veselim se, da prihajam v Ljubljano. Telesno in mentalno sem pripravljen na začetek sezone. Upam, da se bomo z navijači v velikem številu družili v Stožicah, in imeli uspešno sezono."