Milenko Tepić is a new player of Mega Bemax
Monday, 10. August 2020 at 15:45
Mega Bemax has taken another step towards completing the team for the upcoming season, as the contract with the club was signed by an experienced international and former Serbian national team player Milenko Tepić (33), who will soon join the practices of team of coach Vladimir Jovanović.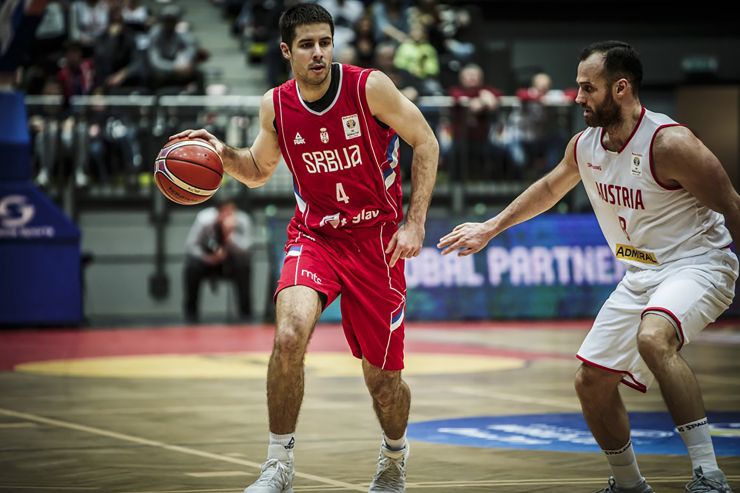 (Photo: FIBA)
After signing the contract with Mega, Milenko Tepić pointed out that in a conversation with the club and the coach, he found his role in Mega: "I am very glad to be in Belgrade again and to have become a member of Mega. Although Mega is a club that develops young players, in a conversation with the club and coach Vladimir Jovanović, I realized that I can find my playing place and role, which is in a way also mentoring. I will do my best to help these young guys grow into good players and fulfill their potential, and to do so by making the best possible results. I'm looking forward to the new season."
Milenko Tepić was born on February 27, 1987 in Novi Sad, he is 202 centimeters tall and plays as a guard. In his rich playing career, he played for Vojvodina, Partizan (twice), Panathinaikos, Sevilla, Lietuvos Rytas, PAOK (twice), Orlandina, Brindisi, Varese, while he finished last season in Iraklis. He won the Euroleague with Panathinaikos in 2011 with two titles in Greece, while he won nine trophies with Partizan (three ABA leagues, four Super Leagues and two Radivoje Korac Cup).
Tepić also won four gold medals at the European Championships in the youth national team, and with the first team of Serbia he won silver at the European Championships in 2009 in Poland.
-----------------------
Milenko Tepić je novi igrač Mega Bemaxa
Mega Bemax je napravio još jedan korak ka kompletiranju ekipe za predstojeću sezonu pošto je ugovor sa klubom potpisao iskusni internacionalac i bivši srpski reprezentativac Milenko Tepić (33), koji će se uskoro i priključiti treninzima ekipe trenera Vladimira Jovanovića.
Po potpisivanju ugovora sa Megom, Milenko Tepić je istakao da je u razgovoru sa klubom i trenerom pronašao svoju ulogu u Megi: "Jako mi je drago što sam ponovo u Beogradu i što sam postao član Mege. Iako je Mega klub koji razvija mlade igrače, u razgovoru sa klubom i trenerom Vladimirom Jovanovićem sam uvideo da mogu da pronađem svoje igračko mesto i ulogu, koja je na neki način i mentorska. Daću sve od sebe da tim mladim momcima pomognem da stasaju u dobre igrače i ispune svoj potencijal, a da to urade praveći što je moguće bolje rezultate. Unapred se radujem novoj sezoni."
Milenko Tepić je rođen 27. februara 1987. godine u Novom Sadu, visok je 202 centimetra i igra na poziciji beka. U bogatoj igračkoj karijeri je nastupao za Vojvodinu, Partizan (u dva navrata), Panatinaikos, Sevilju, Lijetuvos Ritas, PAOK (u dva navrata), Orlandinu, Brindizi, Vareze dok je prošlu godinu završio u Iraklisu. Sa Panatinaikosom je osvojio Evroligu 2011. godine uz dve titule u Grčkoj dok je sa Partizanom osvojio devet trofeja (tri ABA lige, četiri Superlige i dva Kupa Radivoja Koraća.
Tepić je osvojio i četiri zlata na Evropskim prvenstvima u mlađim nacionalnim selekcijama a sa prvim timom Srbije je osvojio srebro na Evropskom prvenstvu 2009. godine u Poljskoj.