Jonathan Galloway pens a 1-year deal with Zadar
Wednesday, 12. August 2020 at 16:30
Zadar have signed another former UC Irvine player!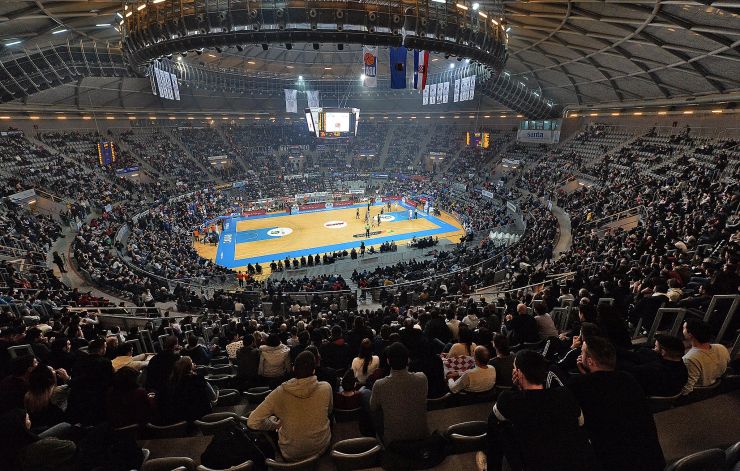 Visnjik, Kresimir Cosic Arena (Photo: Zadar/Zvonko Kucelin)
Zadar have completed their 5th transfer this summer as they signed a 1-year deal with 24-year old American center Jonathan Galloway.
Galloway studied at the University of California, Irvine where he played for the UC Irvine Anteaters together with another Zadar's summer signing Eyassu Worku. Interesting enough, Galloway and Worku were part of the UC Irvine Anteaters team which pulled off a major upset at the 2019 NCAA March Madness when they defeated one of the tournament's main favorites Kansas State.
Jonathan Galloway started his pro career last season when he signed a deal with Danish side Bakken Bears. He averaged 8.2 points and 8.9 rebounds per game in the 2019/20 season.
"We have signed a player who will be one of the best defensive players of the league in the following season. I expect him to be the leader in tranings and to be a real team player down on the court. It is good that Jonathan is used to play for the winning teams. That was the case when he played for the UC Irvine and that was also the case last year when he helped Bakken Bears advance to the Final Four of the FIBA Europe Cup. We will try to help him improve his game, especially his offense. I am very happy that we managed to add such a player into our team roster," said Zadar head coach Veljko Mršić.
Zadar have signed 5 new players this summer including Aleksandar Bursać, Filip Paponja (Cibona), Eyassu Worku (UC Irvine), Jacobi Boykins (Sioux Falls Skyforce) and Jonathan Galloway (Bakken Bears).
---------------
Jonathan Galloway novi je centar KK Zadar
Novo ime u redovima KK Zadar je 24-godišnji Amerikanac Jonathan Galloway, 211 cm visok centar dolazi nam iz danskog Bakken Bearsa gdje je u protekloj sezoni bilježio u prosjeku 8.2 poena, 8.9 skokova uz 1.5 blokada. Galloway je bio suigrač Eyassu Worku-u na sveučilištu UC Irvine, 2019. godine su na NCAA March Madness turniru izbacili sveučilište Kansas State, jedne od glavnih favorita natjecanja. Učinili su to kao 13-to plasirana momčad! To je bilo jedno od najvećih iznenađenja u povijesti turnira. Mladi Galloway je peto pojačanje Zadra za novu sezonu nakon Paponje, Bursaća, Workua i Boykinsa. Ugovor je potpisao na godinu dana.
"Dobili smo igrača koji će biti jedan od najboljih obrambenih igrača lige. Bit će vođa na treningu, također je jako dobar timski igrač, radi puno korisnih stvari koje se ne vide u samoj statistici. Dobro je što je Jonathan navikao igrati u pobjedničkim ekipama, to je bio slučaj na sveučilištu i prošle godine u Danskoj gdje je njegova ekipa ušla na Final Four FIBA Europa Kupa, gdje su imali samo dva poraza u sezoni. Tu smo mi da mu pomognemo kako bi svoju igru unaprijedio na još viši nivo. Zbog načina kako je do sada igrao, neke segmente u igri je zapostavio, pod tim mislim na napadački dio igre, tako da smatram da tu može biti još produktivniji. Sve u svemu jako sam zadovoljan što smo ga potpisali i smatram da će se dobro uklopiti u ostatak ekipe", istaknuo je trener Zadra Veljko Mršić.