Stefan Momirov inks contract with Mega Bemax
Friday, 28. August 2020 at 20:12
Mega Bemax have completed their 2020/21 roster after signing a contract with 20-year-old shooting guard Stefan Momirov.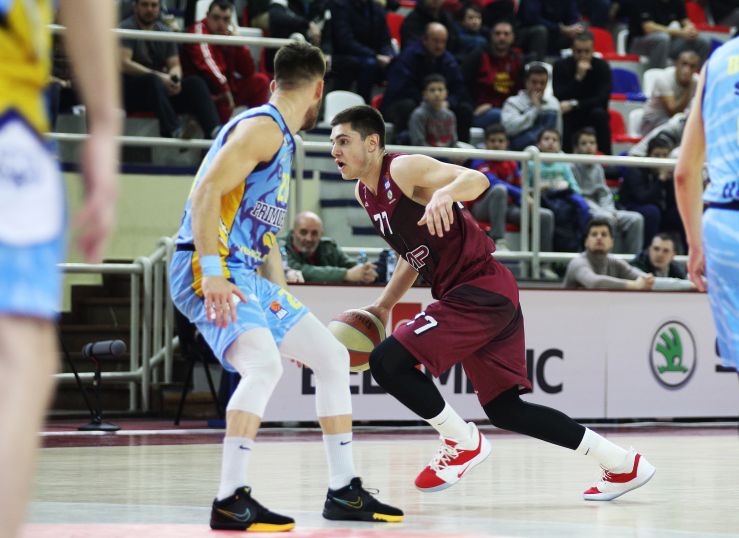 Stefan Momirov (Photo: FMP)
Mega Bemax have completed their 2020/21 roster after signing a contract with 20-year-old shooting guard Stefan Momirov.
Momirov played for FMP in the previous season, while he averaged 2.9 points and 1.9 rebounds per game in the 2019/20 ABA League championship.
"I am very glad that I become part of Mega Bemax. This is a perfect place for young players, while everyone knows how many famous basketball names have been part of Mega Bemax system over the past years. I know many of my future teammates, while I had previously worked together with head coach Vladimir Jovanović in the U18 Serbian national team. Therefore, I am convinced that I won't need much time to fit in and I believe that together we will fulfill all of our goals for the next season," said Momirov.
Stefan Momirov was part of the U18 Serbian team which won the gold medal at the U18 FIBA EuroBasket 2017. It is interesting to mention that back then Momirov played in the U18 Serbian team together with his two future teammates – Filip Petrušev and Nikola Mišković, while the head coach of that U18 Serbian squad was no other then Mega Bemax current head coach Vladimir Jovanović.
-------------------
Stefan Momirov novo pojačanje Mege
Mega je napravila završni korak ka kompletiranju ekipe za predstojeću sezonu pošto je ugovor sa klubom potpisao Stefan Momirov (20) koji se već priključio treninzima Mege.
Momirov je osvajač zlatne medalje na Evropskom prvenstvu sa juniorima Srbije 2017. godine, koju je osvojio zajedno sa sadašnjim igračima Mege Petruševim i Miškovićem, dok je tu generaciju sa klupe predvodio Vladimir Jovanović.
Po potpisivanju ugovora sa Megom, Stefan Momirov je istakao da je siguran da će se vrlo brzo uklopiti u ekipu:
– Veoma mi je drago što sam postao deo Mege. Ovo je prava sredina za razvijanje mladih igrača, svima je poznato ko je sve izašao iz ovog sistema u prethodnim godinama. Dosta saigrača poznajem od ranije, a i sa trenerom Vladimirom Jovanovićem sam sarađivao u juniorskoj reprezentaciji. Siguran sam da je odlična hemija u ekipi i da ću uspeti vrlo brzo da se uklopim te da ćemo zajedno svi ostvariti ciljeve koji su zacrtani,
izjavio je Momirov.
Stefan Momirov je rođen 18.12.1999. godine, visok je 198 centimetara i pokriva pozicije od 1 do 3. Posle juniorskog staža u Crvenoj zvezdi, seniorsku karijeru je započeo 2017. godine u FMP-u, da bi sezonu 2018/19 proveo na pozajmici u Vršcu. Prošle sezone je za FMP je za 8.9 minuta u proseku beležio 2.9 poena.
Nastupao je za juniorsku i mladu reprezentaciju Srbije, a najveći uspeh je zlato sa juniorima na Evropskom prvenstvu 2017. godine u Slovačkoj, kada je u proseku beležio 7.1 poen, 3.1 skok i 2.6 asistencija.