Crvena zvezda mts extended with Dobrić and Davidovac
Tuesday, 08. September 2020 at 12:27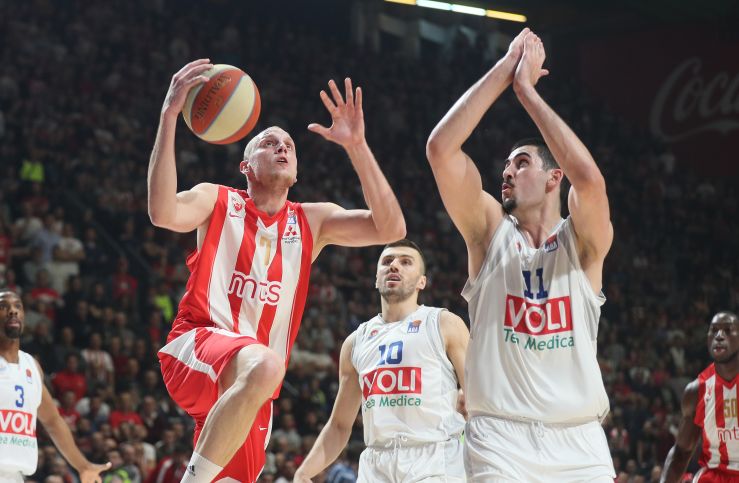 Dejan Davidovac (Photo: Crvena zvezda mts)
This way they have agreed to stay in Belgade until the end of the 2021/22 season.
Ognjen Dobrić used to play for all Crvena zvezda youth categories and he made his first professional basketball steps at FMP, where he used to play until 2015. After he had signed a four-year contract with Crvena zvezda, he established himself as one of the most relentless players and became the fans' favourite. He won three domestic championships, two ABA League trophies, ABA Super Cup trophy and one Serbian National Cup trophy.
Dejan Davidovac signed his first professional contract with the red and white in 2017, after he has been plaing for Proleter and Vršac and FMP (2015 – 17). With Crvena zvezda mts he won the ABA League, two Serbian National Championship and ABA Super Cup trophies. He also became the champion of Europe with the Serbia U20 National Team. With his height of 203 cm, Davidovac can cover various positions on the team, from the guard and forward to the power forward.
--------------------
Crvena zvezda mts produžila saradnju sa Dobrićem i Davidovcem
Prvotimci Crvene zvezde mts Ognjen Dobrić i Dejan Davidovac potpisali su produžetak aktuelnog ugovora sa crveno-belima na još godinu dana.
Time su se Dobrić i Davidovac obavezali na novu vernost crveno-belima do kraja takmičarske sezone 2021-22.
Ognjen Dobrić je prošao sve mlađe selekcije Crvene zvezde, a prve ozbiljne profesionalne košarkaške korake načinio je u FMP u kome je igrao do 2015. Nakon što je potpisao četvorogodišnji ugovor sa Crvenom zvezdom, tokom tog perioda nametnuo se kao jedan od najborbenijih igrača i postao ljubimac navijača. Osvojio je tri domaća šampionata, dve ABA lige, Superkup ABA lige i jedan kup Radivoja Koraća.
Dejan Davidovac je prvi profesionalni četvorogodišnji ugovor sa crveno-belima potpisao 2017. godine, pre toga nastupao je za ekipe Proletera i Vršca, a od 2015-2017. godine igrao je sa velikim uspehom za FMP. Sa Crvenom zvezdom osvojio je ABA ligu, dve titule prvaka Srbije i Superkup ABA lige, dok je sa mladom reprezentacijom osvojio titulu prvaka Evrope 2015. godine. Davidovac sa svojom visinom od 203 centimetra može da pokriva više pozicija u timu, od beka do krila i krilnog centra.