PRESEASON: Wins for Cedevita Olimpija, Mornar, Mega Bemax, Partizan NIS and Split
Saturday, 12. September 2020 at 20:47
On Saturday evening, Cedevita Olimpija, Mornar, Mega Bemax, Partizan NIS and Split have written down new preseason victories, by beating Helios Suns, FMP, Cluj, Borac and Zadar, respectively.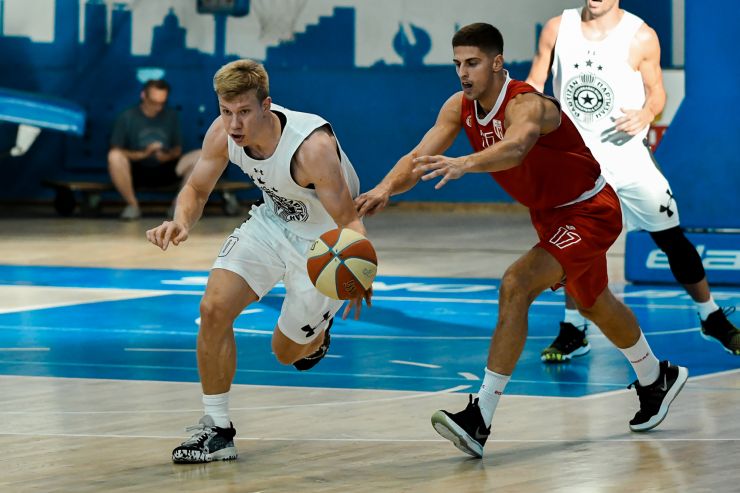 (Photo: Partizan NIS)
In the clash of the two ABA League squads, Split have beaten Zadar at home in Gripe Sports Hall with the score of 81:73. The hosts made a comeback in the last quarter, forced an overtime and eventually got away with 81:73 win. For Split Marčinković and Čampara were the most efficient with 14 points on the record for both of them, while for Zadar Vuković had 14 points and Mavra 13.
In Belgrade, Partizan NIS have hosted the ABA League newcomers Borac and won in the end with the score of 71:66 after coming back from behind in the second half. In the end, Paige was the top scorer of the black and white with 12 points, while Miller-McIntyre added 11. For Borac, Đoković had 12 points and Gavrilović 10.
Another game took place in Belgrade, where the visiting side of Mornar have edged out FMP, convincingly with the score of 107:85. The visiting side have been the better one all game long and were up by 16 points already at halftime, so the second half turned out to be merely a formality. For the winners, Vranješ had 23 points, while Whitehead scored 15. For FMP, Ulubay and Đorđević had 16 points apiece.
In the domestic clash, Cedevita Olimpija have prevailed easily over Helios Suns in Domžale with the final score of 86:66. For Cedevita Olimpija, Hopkins was the one who led the way in scoring with 16 points, while Marinković were the one to follow with 2 less on his record.
Mega Bemax have prevailed over Cluj at home in Ranko Žeravica Sports Hall in Belgrade, thanks to their fantastic last quarter, which they have won by 20 points and emerged victorious in the end with the score of 82:72. For Mega Bemax, Petrušev led the way in scoring with 25 points. Simonović followed with 19.
Preseason, 12.9.2020:
Helios Suns – CEDEVITA OLIMPIJA 66:86 (17:17, 20:28, 13:24, 16:17) STATS
SPLIT – Zadar 81:73 (8:13, 21:16, 16:22, 22:16, 14:6) STATS
PARTIZAN NIS – Borac 71:66 (17:22, 20:20, 18:10, 16:14) STATS
FMP – MORNAR 85:107 (23:31, 20:28, 26:23, 16:25) STATS
MEGA BEMAX - Cluj 82:72 (14:27, 23:18, 22:24, 23:3) STATS