Willie Reed joins Budućnost VOLI
Thursday, 17. September 2020 at 21:08
The blue-and-whites have completed one more transfer.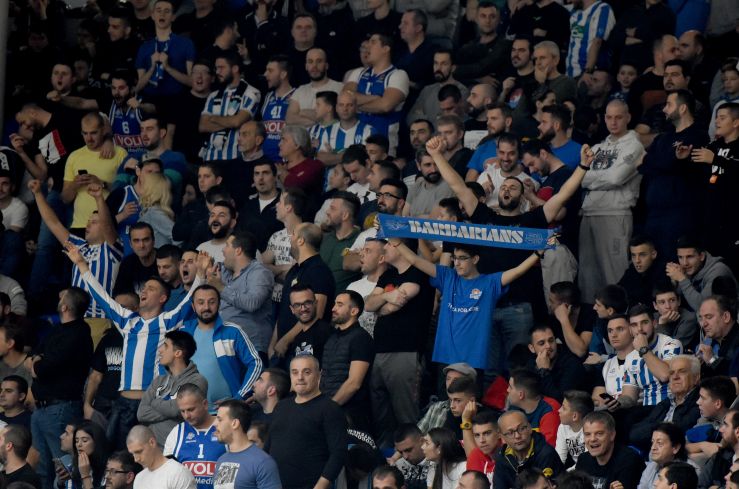 Buducnost VOLI fans (Photo: Buducnost VOLI)
Budućnost VOLI announced that they have completed the transfer of 30-year-old American center Willie Reed.
Reed spent the first half of the previous season playing for the Greek giant Olympiacos, while he averaged 6.5 points and 2.8 rebounds per match in the 2019/20 EuroLeague campaign. In January this year he left Olympiacos and returned to the NBA G League side Salt Lake City Stars, for which he also played in the 2018/19 season.
Reed had a pretty impressive stats while playing for the Salt Lake City Stars in the 2018/19 season as he averaged 20.1 points and 11.3 rebounds per game.
Willie Reed has also spent three seasons in the NBA. In the 2015/16 season season he played 39 games for the Brooklyn Nets, in the 2016/17 season he played 71 games for the Miami Heat, while in the 2017/18 season he played 39 games for the Los Angeles Clippers and 3 games for the Detroit Pistons.
---------------
Willie Reed oblači plavo bijeli dres
Tridesetogodišnji američki centar novi je član Budućnost Volija!
Willie Reed rođen je 16. maja 1990. godine u Kansas City-ju, visok je 211 cm. Proveo je dvije godine na koledžu Saint Louis. U profesionalnoj karijeri proveo je tri sezone u NBA-u igrajući za Brooklyn Nets-e, Miami Heat, Los Angeles Clippers-e i Detroit Pistons-e. Prosjek u NBA Ligi za tri sezone - 5 poena, 3.8 skokova uz 59% šuta iz igre. U razvojnoj NBA Ligi nastupao je za: Springfield Armor, Reno Bighorns, Grand Rapids Drive, Iowa Wolves i Salt Lake City. U sezoni 2018/19 nastupajući za Salt Lake City bilježio je 20.1 poen, 11.3 skokova i 1.75 blokada po meču uz šut iz igre 66.5%. U prethodnoj sezoni nastupao je za Olympiacos u deset utakmica Evrolige postižući 6.45 poena i 2.8 skokova po meču.