Taylor Rochestie returns to Crvena zvezda mts
Wednesday, 07. October 2020 at 20:06
The two sides signed a 2-month contract with an option to extend it until the end of the 2020/21 season.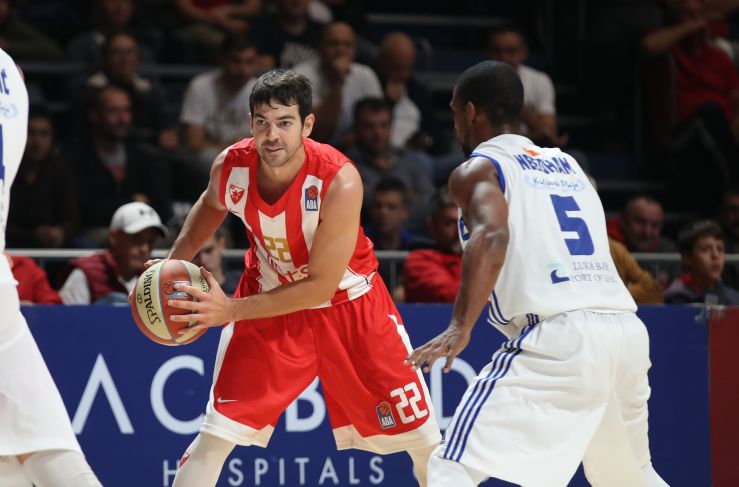 Taylor Rochestie (Photo: Crvena zvezda mts)
Taylor Rochestie has returned to Crvena zvezda mts! The red & whites announced that they have signed a 2-month contract with the 35-year-old American guard, with an option to extend it until the end of the 2020/21 season.
Taylor Rochestie played for Crvena zvezda mts in the 2017/18 season and was one of the best players in the red & white team during that year. He averaged 14.6 points, 5.9 assists and 2.6 rebounds per game in the 2017/18 ABA League championship.
During his pro career Taylor Rochestie has played for numerous well-known European clubs such are Galatasaray, Alba Berlin, Baskonia, Montepaschi Siena, Maccabi Tel Aviv, Lokomotiv Kuban, etc. After leaving Crvena zvezda mts in the summer of 2018, Rochestie went to China where he played for Tianjin Gold Lions and later on for Anhui Dragons, while in October last year he joined Olympiacos Piraeus where he finished the previous season.
What is interesting to mention is that Crvena zvezda mts head coach Saša Obradović knows Taylor Rochestie very well as the two of them worked together in Lokomotiv Kuban in the 2016/17 season.
---------------
Tejlor Ročesti ponovo u Crvenoj zvezdi
Američki bek Tejlor Ročesti novo je pojačanje KK Crvena zvezda mts!
Ročesti, koji je potpisao ugovor na dva meseca uz opciju produžetka do kraja takmičarske sezone 2020-2021, tako se vraća u crveno-beli dres u kome je pre tri sezone osvojio titulu prvaka Srbije i bio jedan od najboljih igrača ekipe u takmičarskoj sezoni 2017-2018.
Ročesti je svojevremeno bio najbolji strelac Evrolige, a u karijeri je sakupio ogromno iskustvo noseći dresove Le Mana, Baskonije, Makabija, Nižnjeg, Montepaskija, Lokomotive iz Kubanja, Crvene zvezde i prošle sezone Olimpijakosa.
Osim u brojnim evroligašima, Ročesti je u dva navrata igrao i za kineske klubove Tjanžin Gold Lajonse i Anhui Dragonse, a bio je u jedan od najboljih košarkaša tamošnjeg šampionata.
Dolaskom 35-godišnjeg levorukog plejmejkera, Crvena zvezda dobija vrlo iskusnog igrača, sa odličnim pregledom igre, dodatnu kreaciju i poene u napadu, a trener Saša Obradović igrača sa kojim je već sarađivao i koga izuzetno dobro poznaje.
Ročesti, rodom iz Teksasa, prve korake napravio je na Univerzitetu Vašington, a nakon toga profesionalnu karijeru u Evropi započeo je 2009.godine nastupajući za nemački Getingen. Visok je 185 centimetara i težak 88 kilograma.
Tokom sezone 2017-2018 bio je jedan od najboljih igrača Crvene zvezde, najzapaženiji u domaćem šampionatu, a u Evroligi je odigrao 30 utakmica, u kojima je prosečno ubacivao 13.5 poena i 5 asistencija po utakmici. Na 7 utakmica ubacivao je više od 20 poena po meču, a rekord te sezone postavio je protiv Himkija u Beogradu kada je ubacio 27 poena uz 9 skokova i 7 asistencija.