Mornar wrote history and grabbed a win over Cibona
Monday, 12. October 2020 at 18:00
At home in Topolica Sports Hall in Bar, Mornar have outgunned Cibona of Zagreb, after dominating the court all game long.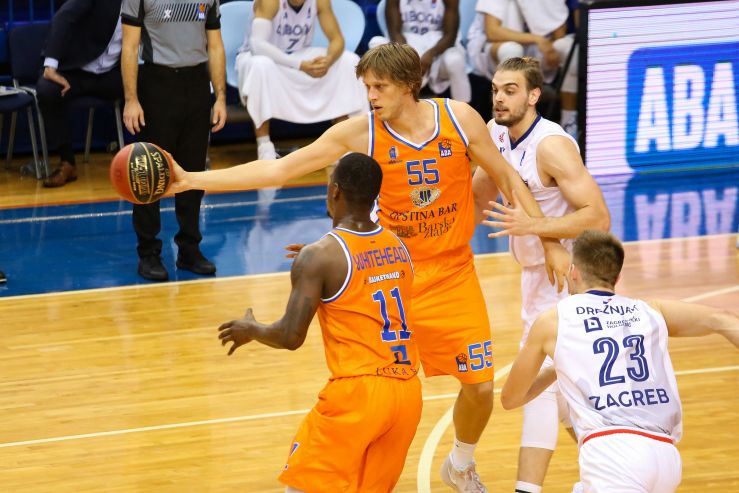 Uros Lukovic (Photo: Mornar/Media Pro)
ABA League Round 2, Monday, 12 October 2020:
MORNAR - Cibona 109:68 (27:14, 22:18, 29:15, 31:21)
Game recap: Mornar remain perfect after two rounds of the ABA League season are over. After they have prevailed over Zadar in round one on the road in Višnjik, they have now grabbed a triumph in their first home court game of the season, by beating Cibona convincingly. On the other end, Cibona have started the season with a 0:2 record and they will have to wait for their first success a bit longer.
It's worth mentioning an excellent Mornar team achievement, as they have set the third-best team valuation in a single regional league game so far – 155. Only Crvena zvezda against Bosna in 2003 (161) and Cibona against Banjalučka Pivara in 2004 (156) have achieved a highest single-game valuation in the entire regional league history.
Key moments: Cibona quickly took a 3:0 lead, but as it turned out, it was their only lead of the game. Mornar responded with a 23:2 run and went up by 18 points (23:5) already in the 8th minute of the game. There was no way back in the game for Cibona.
Man of the match: Jacob Pullen has had a great game against Cibona, as he led his team to the win with 13 points, 5 assists and a rebound. He finished the game with a game-high valuation of 20 and is our man of the match!
Can't trick the stats: Mornar's team valuation of 155 reveals it all. They were much better than their opponents in each and every single statistical category and have deserved this win.