WHAT A GAME! Danilo Nikolić makes the 3-pointer at the buzzer to win the game for Budućnost
Saturday, 10. October 2020 at 19:59
Budućnost VOLI have won the double-overtime thriller against Partizan NIS in Belgrade, after Danilo Nikolić scored the game-winning 3-pointer at the buzzer!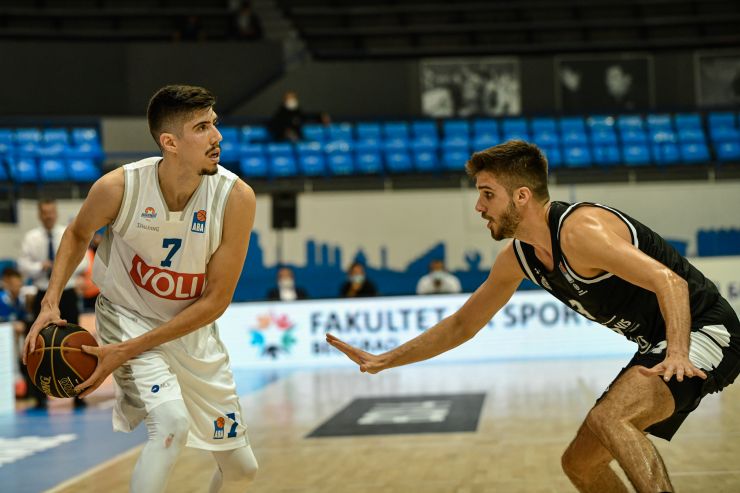 Danilo Nikolic (Photo: Partizan NIS)
ABA League Round 2, Saturday, 10 October 2020:
Partizan NIS – BUDUĆNOST VOLI 99:101 (20:22, 21:24, 19:17, 18:15, 8:8, 13:15)
Game recap: Well, this was just WOW! Budućnost VOLI have defeated Partizan NIS after a double-overtime thriller in Belgrade, while the hero of the night was Danilo Nikolić who scored the game-winning 3-pointer at the buzzer!
And did we tell you that just 1 second before the game-winning shot made by Danilo Nikolić, Partizan NIS guard Codi Miller-McIntyre drained the 3-pointer to put the home team in front 99:98? You just have to watch this unbelievable game ending!
Key moments: Both sides had chances to win the game before the 2nd overtime. At the end of the 4th quarter William Mosley had a perfect opportunity to win the game for Partizan NIS. With just 2 seconds left on the game clock, Budućnost VOLI were up by 1 point – 78:77, but Mosley had 2 free-throws... He missed the first one and then scored the second one to tie the game. After that, Budućnost VOLI guard Nikola Ivanović almost drained the full-court 3-pointer at the buzzer.
The final moments of the 1st overtime were also very thrilling. The score was all tied at 86:86, while Partizan NIS had the final ball-possession. However, Nikola Ivanović managed to steal the ball from Nemanja Jaramaz and to prevent Partizan NIS guard from even taking the last shot.
And you have already seen in the video what happened in the final moments of the 2nd overtime. Everyone thought that Codi Miller-McIntyre had won the match for Partizan NIS, but it was actually Danilo Nikolić who made the last shot and it was Budućnost VOLI who triumphed at the end.
Man of the match: There is no question here. Apart from making the game-winning 3-pointer, Danilo Nikolić has not missed a single shot this evening! He was 5/5 for 2 points, 2/2 for 3 points and 5/5 from the free throw line. This is the night he will never forget.
Can't trick the stats: Partizan NIS missed too many free-throws in this match. The black & whites were 23/32 from the FT line.