Partizan seize their first win in the season after beating FMP on the road
Saturday, 17. October 2020 at 20:59
Partizan NIS put on an impressive offensive performance as they beat FMP on the road.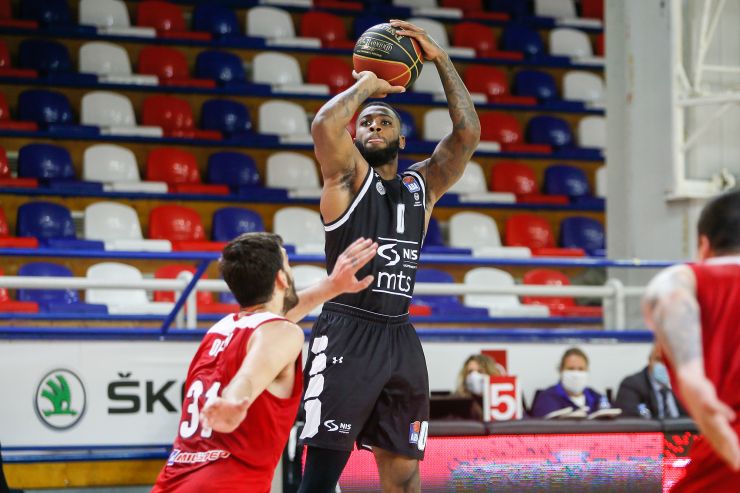 Codi Miller-McIntyre (Photo: FMP)
ABA League Round 3, Saturday, 17 October 2020:
FMP – PARTIZAN NIS 90:103 (23:21, 21:27, 22:29, 24:26)
Game recap: Partizan NIS have been under huge pressure ahead of their away game vs. FMP, simply because the black & whites lost their two previous games in the 2020/21 ABA League regular season. Still, Partizan NIS squad showed that they can handle this kind of situations as they have probably put on their best performance so far in the 2020/21 campaign.
Partizan NIS defeated FMP on the road after presenting an outstanding offensive display. The black & whites scored no less than 103 points this evening, while each of the 10 players who played this game for the visiting side have scored at least 2 points.
Both Partizan NIS and FMP now have the overall score of 1-2.
Key moments: After a very close 1st half, Partizan NIS gained the crucial lead in the 3rd quarter. The visiting side made some big shots in that period, which helped them escape on a 15-point lead already by the middle of the 3rd quarter – 67:52. FMP tried to fight back and they did manage to reduce the gap to a single digit in the 4th quarter, however Partizan NIS offense prevented the Panthers of making the full comeback.
Man of the match: It is already quite clear that Codi Miller-McIntyre is a huge addition to the black & white roster. This 26-year-old guard was once again the best player in his team as he scored 23 points and had the overall index rating of 26.
Can't trick the stats: When you score 103 points it is very unlikely that you will lose the game. Partizan NIS team had an outstanding shooting night and that excellent offense brought them the precious win tonight.