Big game coming up in Ljubljana – Cedevita Olimpija vs. Igokea
Saturday, 21. November 2020 at 10:55
These two teams have had an excellent start of the season as both of them currently have the overall score of 4-1.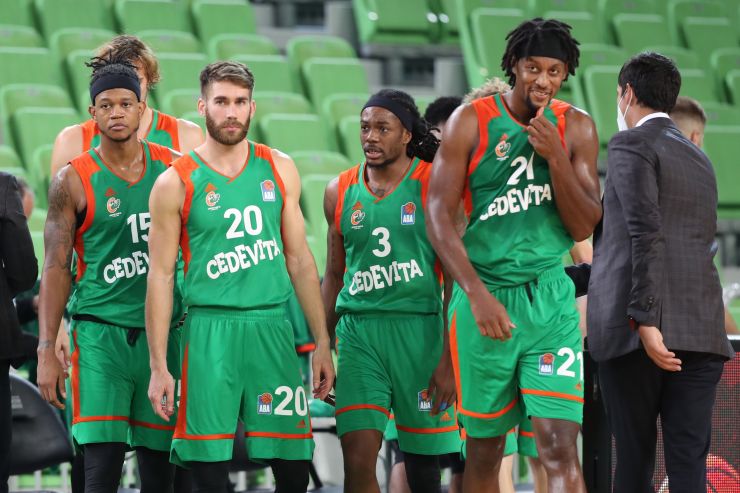 Cedevita Olimpija team (Photo: Cedevita Olimpija/Ales Fevzer)
ABA League Round 8, Sunday, 22 November 2020:
Where? Arena Stožice, Ljubljana
When? 19:00
Story of the game: Big game is coming up in Ljubljana on Sunday evening as Cedevita Olimpija are about to host Igokea in Round 8 of the 2020/21 ABA League regular season.
This will be the clash of two teams who had an excellent start of the season. Cedevita Olimpija and Igokea currently have the overall score of 4-1, so both of them have already showed that they will be serious contenders for the Playoffs spots.
Cedevita Olimpija grabbed a very important home win last weekend against Borac, while after that they had a long trip to Canary Islands where they eventually lost a EuroCup match against Herbalife Gran Canaria.
On the other side, Igokea missed the last two-week action in ABA League as their opponents had a rising number of positive COVID-19 cases in the team, so those games had to be postponed. Still, that means that Igokea troops had enough time for training and they are coming to Ljubljana fully ready to try writing down their 5th consecutive win in the regular season.
It is interesting to mention that in the previous season both games between these two teams ended up with a win of the visiting side. Cedevita Olimpija triumphed in Laktaši by 95:90, while then Igokea seized the win in Ljubljana – 85:78.
Match-up in focus: Jaka Blažič has been in stunning form lately and it's no wonder that he is the top scorer of Cedevita Olimpija in the 2020/21 ABA League season. And now, Cedevita Olimpija's top scorer Blažič will have a direct duel with Igokea's top scorer and one of the best shooters in the league – Antabia Waller. There is no doubt that this Blažič-Waller duel may decide many things in the upcoming clash.
Head to head in the regional league: In total 1:1; In Ljubljana 0:1.