MATCH OF THE ROUND: Derby day in Belgrade – Partizan NIS vs. Crvena zvezda mts
Sunday, 22. November 2020 at 14:08
Who will take the lead in the all-time head-to-head score?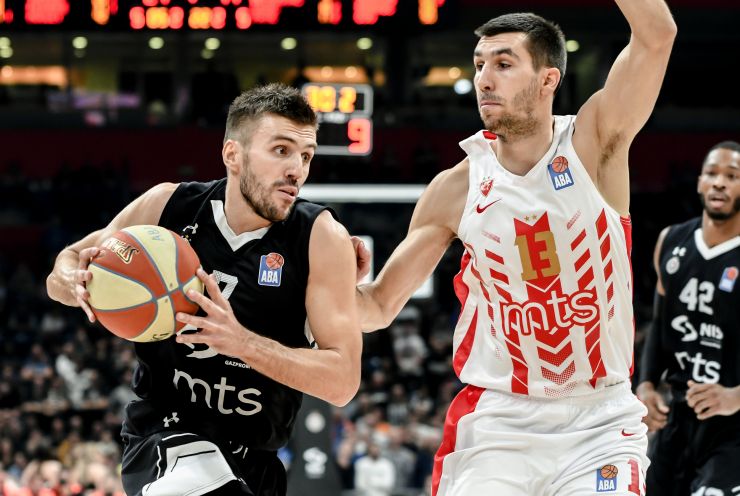 Nemanja Gordic (Photo: Partizan NIS)
ABA League Round 8, Monday, 23 November 2020:
PARTIZAN NIS - CRVENA ZVEZDA MTS
Where? Ranko Žeravica Hall, Belgrade
When? 21:00
Story of the game: Whenever these two city rivals face each other the whole Europe is watching. It's one of the biggest games in the basketball world and we are about to witness another chapter of this fierce rivalry.
In this week's ABA League match of the round, Partizan NIS will host Crvena zvezda mts on Monday evening.
Although it is still early in the season, this game will be quite special as whoever wins the upcoming game will take the lead in their all-time head-to-head score in ABA League. Partizan NIS and Crvena zvezda mts have so far faced each other 42 times in the regional league and the score is all tied – 21:21.
As far as this season is concerned, Partizan NIS have picked up the pace after a slow start and they are still undefeated under the command of their new head coach Sašo Filipovski. The black-and-whites defeated Zadar and Cibona in the previous two rounds of the 2020/21 ABA championship, while last week they scored two big wins in EuroCup.
On the other side, Crvena zvezda mts are still undefeated in the 2020/21 ABA League campaign. The red-and-whites have won all 7 games so far in the season and they are sitting all alone at the top of the standings. It is also interesting to mention that if Crvena zvezda mts win the upcoming match it will be the first time in their history to have a better head-to-head score against Partizan NIS in ABA League.
Match-up in focus: Marcus Paige (Partizan NIS) vs. Jordan Loyd (Crvena zvezda mts). We are here talking about some of the best shooters in the league. It is enough just to write that Marcus Paige scored 8 three-pointers in a single game last week in EuroCup, while on the other side Jordan Loyd is currently the top scorer of the 2020/21 EuroLeague regular season. We can hardly wait to watch this duel.
Head to head in the regional league: In total 21:21; At Partizan NIS home court 10:9.