Jurij Macura and Ebuka Izundu sign contracts with FMP
Friday, 01. January 2021 at 11:47
FMP have added two more new players to their 2020/21 roster.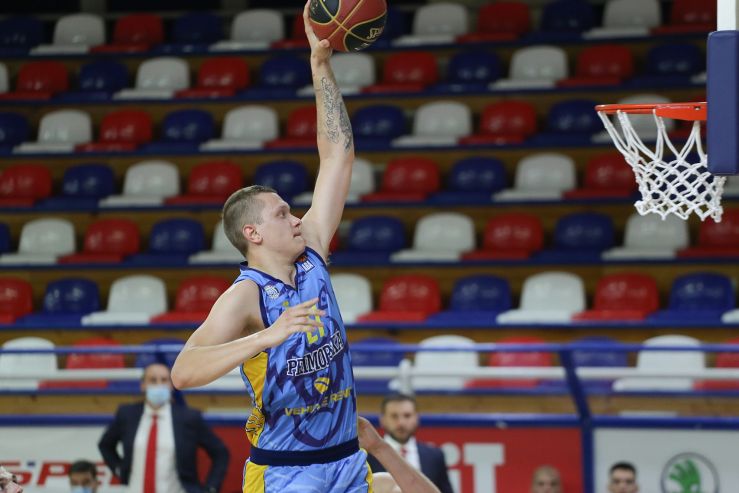 Jurij Macura (Photo: FMP)
FMP have been very active on the transfer market recently. After signing a contract with talented 19-year-old point guard Lazar Vasić, the Panthers completed two more transfers on the final day of the previous year.
FMP announced that they have penned deals with Jurij Macura and Ebuka Izundu!
Jurij Macura is a well-familiar name to all ABA League fans as he spent the last season in Mega Soccerbet, while in this season he was the best player of Koper Primorska.
Ebuka Izundu is a 24-year-old Nigerian center who spent the first half of the 2020/21 season in French team SIG Strasbourg, He studied at the University of Miami where he played for the Miami Hurricanes from 2015 to 2019. After finishing his studies he went overseas to sign his first pro contract with Spanish team Real Betis for which he played in the 2019/20 season.
----------------
KK FMP dobija dva vredna pojačanja
KK FMP pred nastavak sezone dobija dva vredna pojačanja i igrače koji će pojačati konkurenciju u timu, a ujedno doneti i dodatni kvalitet timu.
Novi članovi FMP-a su slovenački reprezentativac 21-godišnji Jurij Macura i 24-godišnji nigerijski centar Ebuka Izundu!
Obijica igrača igraju na pozicijama 4/5 i doneće dodatni kvalitet timu u reketu u nastavku sezone u regionalnoj ligi i nacionalnim takmičenjima.
Jurij Macura igrao je tokom ove sezone za KK Primorska iz Kopra, dok je prošle sezone bio član KK Mega. 23.decembra napunio je 21.godinu, rodom je iz Ljubljane. Kao jedan od najtalentovanijih slovenačkih igrača u tom godištu, debitovao je za nacionalni tim 2019.godine. Visok je 211 centimetara i tezak 106 kilograma.
Drugo pojačanje našeg kluba je 24-godišnji Nigerijac rodom iz Lagosa i bivši igrač francuskog Strazbura Ebuka Izundu. Izundu, visok 210 centimetara prve košarkaške korake pravio je na čuvenom koledžu Majami u periodu od 2015-2019. Prve profesionalne korake napravio je u španskoj Endesi igrajući za Real Betis, a ovu sezonu počeo je Strazburu.Visok je 208 centimetara, teđak 105 kilograma. Radi se o odličnom skakaču i fizički izuzetno snažnom igraču.