Can Cibona bounce back against Mornar?
Friday, 15. January 2021 at 11:59
On Saturday night, Cibona will be hosting Mornar at home in Dražen Petrović Arena in Zagreb. Which of the two sides will grab the win?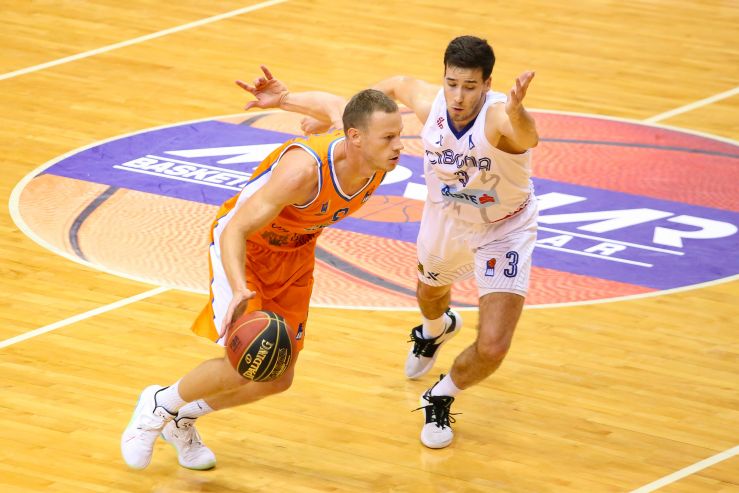 Sead Sehovic (Photo: Mornar/Media Pro)
ABA League Round 15, Saturday, 16 January 2021:
CIBONA - MORNAR
Where? Dražen Petrović Arena, Zagreb
When? 20:00
Story of the game: A big game is coming to Zagreb on Saturday night, as Cibona are set to host Mornar in their Dražen Petrović Arena.
It is a game, where many could point in the direction of Mornar when forecasting the winner, due to the position of both squads in the standings right now and due to the score of their first game in which the two sides have tested their skills one against another this season, when Mornar have beaten Cibona 109:68 in Bar, but it might be different this time, as we might see a different face of Cibona in comparison with the games that are behind us.
This time, the Wolves will have newcomers Scottie Reynolds, Damir Markota and Darko Planinić, all experienced and high-quality players, at their disposal. Which, of course, improves their chances of a win by far.
For Cibona, a win is a must in order to achieve their fourth triumph this season and to escape the danger zone at the bottom of the ABA League standings, while on the other side, Mornar currently have only two defeats on their record and they wish to keep up that way in order to furtherly improve their chances of securing their spot in the ABA League Playoffs.
One thing is certain – we're about to witness an exciting game in Zagreb and the outcome is difficult to predict.
Match-up in focus: Ever since he had joined Cibona, Scottie Reynolds has been the driving force of the Zagreb squad, as he is currently averaging 17 points and 3 assists per game in the ABA League. On the other side, Jacob Pullen, one of arguably the best guards in the ABA League will be there to try to prevent him from making an impact this time. Who will come out on top in this battle? Watch and find out!
Head to head in the regional league: in total 3:6; In Zagreb 2:2.