EC: Victories for Mornar and Partizan NIS
Wednesday, 13. January 2021 at 23:05
In their opening games of the EuroCup Top 16 stage of the competition, Mornar and Partizan NIS have prevailed over Dolomiti Energia Trento and Herbalife Gran Canaria, respectively. Cedevita Olimpija have suffered defeat by Virtus Segafredo Bologna on the road.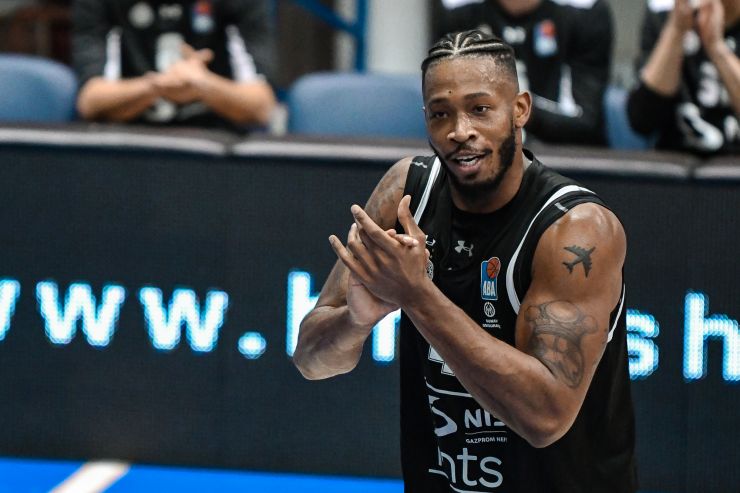 William Mosley (Photo: Partizan NIS)
Partizan NIS have outplayed Dolomiti Energia Trento at home in Belgrade in a clash, where there was no doubt regarding the final outcome since the very beginning. The black and white led by 8 points after the opening quarter and by 15 at halftime. In the second half they went on to increase their lead and they were up by no less than 24 points with 10 minutes left in the game. The rest was history and the final score was 71:43 in favour of the Belgrade powerhouse. For Partizan NIS Will Mosley led the way in scoring with 12 points on his record. Newcomer Josh Perkins added 11.
It has been a great EuroCup night for Mornar as well, as they have outgunned Herbalife Gran Canaria on the road in Spain. The Bar squad have been in command of the game almost throughout the playing time, even though they did not manage to seriously pull away at any given point of the game all until the final minutes. In the end, they have prevailed over their opponents with the final score of 100:102. For Mornar, Isaiah Whitehead was the one to lead the way in scoring, as he put in 28 points, while both Jacob Pullen and Kenny Gabriel contributed 14 apiece.
In Group G, Cedevita Olimpija suffered a road defeat by Virtus Segafredo Bologna. Even though the Dragons have been the ones to start the game on a better note, the hosts have come in front by halftime, when they were up by 12 points (46:34). In the second half, the former EuroLeague champions have managed to control the flow of the game and won in the end with the final score of 90:76. For Cedevita Olimpija Jaka Blažič scored 25 points, while Kendrick Perry added 22.
A night before, Budućnost VOLI have outplayed Bourg.
2020/21 EuroCup Top 16, Group G, Round 1, Wednesday, 13 January, 2021:
VIRTUS SEGAFREDO BOLOGNA – Cedevita Olimpija 90:76 (11:18, 35:16, 14:15, 27:23)
Belinelli 25, Hunter 22 | Blažič 25, Perry 22.
Group F, Round 1, Wednesday, 13 January, 2021:
PARTIZAN NIS – Dolomiti Energia Trento 71:43 (24:16, 11:4, 19:10, 17:13)
Mosley 12, Perkins 11 | Williams 15, Browne 7.
Group H, Round 1, Wednesday, 13 January, 2021:
Herbalife Gran Canaria – MORNAR 100:102 (23:27, 20:20, 24:25, 33:30)
Slaughter 23, Kilpatrick 16 | Whitehead 28, Pullen & Gabriel 14.