EuroBasket Qualifiers: BiH stronger than Greece
Saturday, 20. February 2021 at 22:45
In Saturday's EuroBasket Qualifiers games, BiH beat Greece, while Croatia, Slovenia and Montenegro suffered defeats.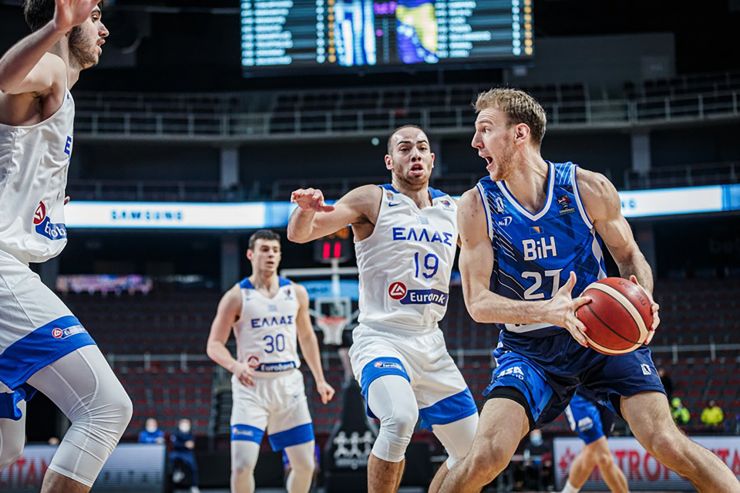 (Photo: FIBA)
At the Riga Tournament, Bosnia and Herzegovina have achieved a big win over Greece in Group H, with the final score of 84:69, after they have been in front throughout the game and have in the end deservedly grabbed a pair of points. For Bosnia and Herzegovina, Emir Sulejmanović topped the list of scorers with 23 points, while Spars big man Kenan Kamenjaš added 16.
In Kiev, Slovenia national team have suffered a defeat by home Ukraine side, with the final score of 70:65, after the hosts managed to turn the game upside-down in the final ten minutes and grab a win after a close finish. For Slovenia, Cedevita Olimpija trio were at the top of the scorers' list, as Luka Rupnik scored 18 points and Žiga Dimec and Jaka Blažič contributed 9 each.
In Istanbul, Croatia have been defeated by the Netherlands in Group D, after playing well in first half, after which they have been up by 8 points, but falling completely behind in the second. In the end, the Netherlands prevailed with the score of 65:57. For Croatia, Željko Šakić led the way in scoring with 17 points, while Filip Krušlin and Miro Billan added 11 each.
In Podgorica, Montenegro faced France and in a game, that could have gone either way, they have been up by 6 points at half time, only to let go of their lead in the second half of the game, when France emerged victorious with the score of 73:71. For the hosts, Budućnost VOLI player Petar Popović led the way in scoring with 17 points, while Mega Soccerbet big man Marko Simonović added 16.
FIBA EuroBasket 2022 Qualifiers, Group D, Round 5, Saturday, 20 February, 2021:
CROATIA – Netherlands 57:65 (19:11, 16:16, 13:22, 9:16)
Šakić 17, Krušlin & Bilan 11 | Franke 15, Van der Vuurst de Vries 11.
Group F, Round 6, Saturday, 20 February, 2021:
UKRAINE - Slovenia 70:65 (9:11, 15:16, 17:15, 29:23)
Rendl 24, Pavlov | Rupnik 18, Dimec & Blažič 9.
Group G, Round 5, Saturday, 20 February, 2021:
Montenegro – FRANCE 71:73 (17:13, 20:18, 16:19, 18:23)
Popović 17, Simonović 16 | Heurtel 16, Chassang 11.
Group H, Round 5, Saturday, 20 February, 2021:
Greece – BiH 69:84 (18:26, 19:23, 14:15, 18:20)
Kavvadas 16, Katsivelis 12 | Sulejmanović 23, Kamenjaš 16.