EuroBasket Qualifiers: Victories for North Macedonia, BiH and Montenegro
Monday, 22. February 2021 at 21:52
In the Monday's EuroBasket Qualifier games, North Macedonia, BiH and Montenegro have celebrated victories over Estonia, Bulgaria and Germany, respectively. On the other hand, Croatia have been defeated by Turkey.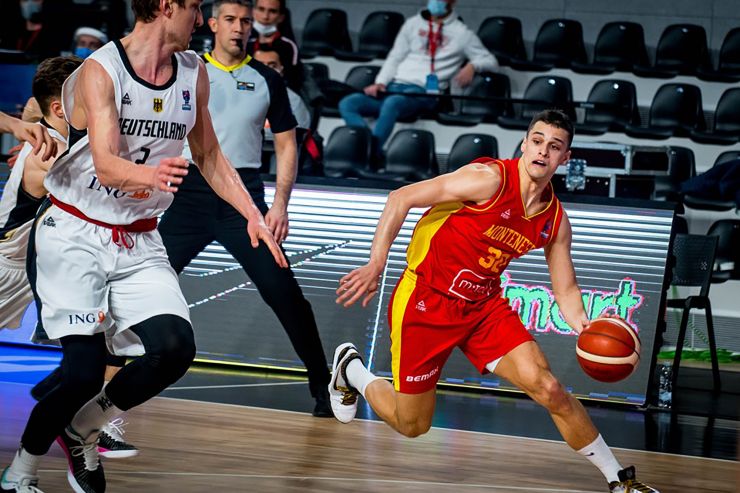 (Photo: FIBA)
At the Perm tournament, North Macedonia have outgunned Estonia after coming up from behind in a thrilling finish. The Estonians led by 11 points at halftime, but Macedonians managed to bounce back in the second half and get away with a win. However, this win was not enough for them to seal a EuroBasket 2022 spot.
In Riga, Bosnia and Herzegovina have achieved yet another victory, their 5th in the EuroBasket 2022 Qualifiers, which put them in the first place in the Group H after the end of the Qualifying Round. This time, they have been stronger than Bulgaria, fully deservedly, after being in front throughout the game and recording a 80:61 win in the end. For BiH, Kenan Kamenjaš led the way in scoring with 17 points. Emir Sulejmanović added another 14.
At home in Podgorica, Montenegro turned out to be too strong for Germany National team. The hosts were up by 2 points after the opening quarter, by 13 at halftime and in the second half they managed to control the flow of the game and protect their lead. In the end, they have celebrated a win with the final score of 82:75. Nikola Ivanović of Budućnost VOLI was the top scorer of Montenegro with 26 points. Nemanja Đurišić followed with 15 on his record.
In Istanbul, Croatia have suffered a defeat by the tournament hosts Turkey with the score of 84:78, after the home side managed to turn the game into their favour thanks to their excellent last quarter score (22:13). For Croata national team, Tomislav Gabrić was the most efficient as he scored 13 points. Goran Filipović and Miro Bilan each contributed 12.
FIBA EuroBasket 2022 Qualifiers, Group B, Round 4, Monday, 22 February, 2021:
Estonia – NORTH MACEDONIA 84:86 (27:18, 22:20, 20:25, 15:23)
Kotsar 15, Kullamae & Treier 14 | Dimitrijevikj 23, Trajkovski 21.
Group D, Round 6, Monday, 22 February, 2021:
TURKEY - Croatia 84:78 (21:21, 21:19, 20:25, 22:13)
Tuncer & Sanli 17 | Gabrić 13, Filipović & Bilan 12.
Group G, Round 6, Monday, 22 February, 2021:
MONTENEGRO – Germany 82:75 (24:22, 21:10, 17:22, 20:21)
Ivanović 26, Đurišić 15 | Akpinar 19, Benzing 15.
Group H, Round 6, Monday, 22 February, 2021:
Bulgaria – BOSNIA AND HERZEGOVINA 61:80 (16:19, 22:24, 16:13, 7:24)
Zahariev & Kostadinov 11 | Kamenjaš 17, Sulejmanović 14.