Thrilling local derby in Novo mesto, celebration by Cedevita Olimpija
Wednesday, 24. February 2021 at 20:00
Currently, Krka are hosting Cedevita Olimpija in a postponed game of the ABA League Round 14 at home in Leon Štukelj Sports Hall, Novo mesto. Follow live play by play on our website.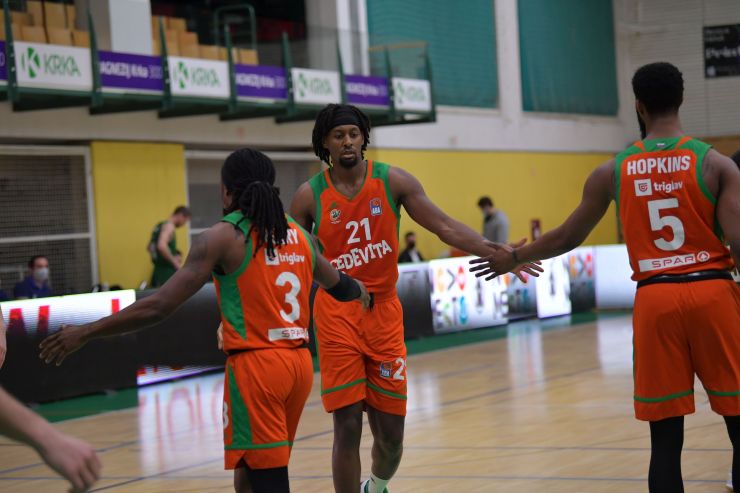 Cedevita Olimpija team (Photo: Krka/Drago Perko/kosarka.si)
ABA League Round 14, Wednesday, 24 February 2021:
Krka - CEDEVITA OLIMPIJA 88:95 (35:23, 22:27, 15:23, 16:22)
Game recap: In the postponed game of the ABA League Round 14, Cedevita Olimpija have outgunned Krka on the road in Novo mesto. This way, the Dragons of Ljubljana have prevailed over the Novo mesto squad for the second time in the 2020/21 ABA League season, after they have edged them out in the opening round of the season as well. For Cedevita Olimpija this is the 13th win of the season in 16 games played so far, which keeps them amongst the most serious Playoffs contenders, while on the other side, Krka continue their season in the ABA League with 5 triumphs and 11 defeats on their record, meaning that they need to keep on grinding in order to protect their ABA League spot for the next season in the final part of this season.
Key moments: Krka have pulled away in the opening quarter, when they have scored no less than 35 points, leading by 12 at the first break. They have increased their lead to 15 points (49:34) midway through the second quarter. By halftime, the guests have cut the gap to 7 points (57:50) and then turned the game completely upside down in the third quarter. In the 29th minute, Cedevita Olimpija have already been ahead by 6 points (67:73). After a thrilling ending in the final quarter, the game could have really gone either way, but in the final moments, the Dragons have been more focused and celebrated a win in the end.
Man of the match: Mikael Hopkins had a brutal performance against Krka, as he had 23 points, 12 rebounds, 3 assists, 1 steal, 1 block and an unbelievable valuation of 39. He was the key to his team's win and is rightfully our man of the match.
Can't trick the stats: Cedevita Olimpija have dominated the glass all game long and won the rebounding battle 33:20, which gave them crucial advantage that secured them the win this time.