Will the streaks continue or end in Zadar?
Friday, 26. February 2021 at 11:00
On Saturday afternoon, Zadar will be hosting Partizan NIS at home in Krešimir Ćosić Hall. Can they continue their winning streak or will the black and white end it?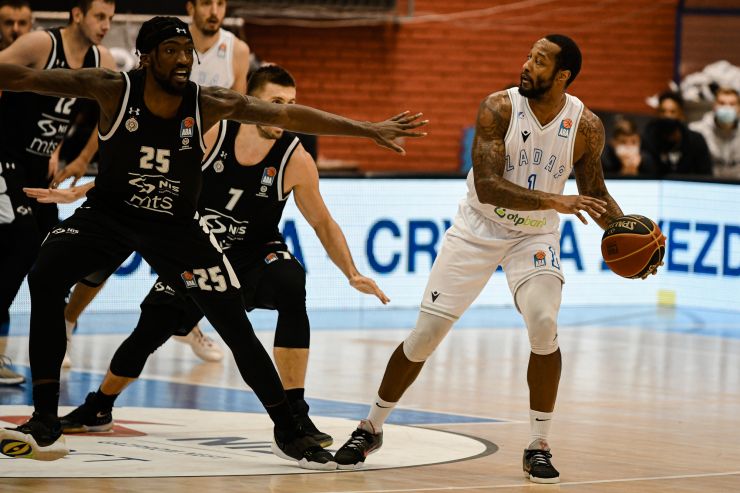 Justin Carter (Photo: Partizan NIS)
ABA League Round 19, Saturday, 27 February 2021:
ZADAR – PARTIZAN NIS
Where? Krešimir Ćosić Hall, Zadar
When? 17:00
Story of the game: It is always an exciting day in Zadar when Partizan NIS are coming to town and it is expected that this time it would be no different, as the Dalmatians will be hosting the Steamroller at home in Krešimir Ćosić Sports Hall.
It has never been easy for the black and white to play in this town of basketball and for sure it will not be easy in the 19th round of the season, as they are seeking their last chance to keep track with their rivals in the Playoffs race. Zadar have been in great mood before the break, recording three victories in the last three appearances and will be looking to keep up with their good performances after the break as well, in order to escape the danger zone near the bottom of the ABA League standings, where they are holding just one more win than Borac, the only squad with no more than 4 wins grabbed so far.
On the other side, Partizan NIS have lost four games in a row in the ABA League and need to start winning again in order to improve their current 7/17 record and position in the middle of the ABA League standings and perhaps regain a bit of hope to get back into the Playoffs race.
However, it will definitely not be a simple task for Sašo Filipovski and his squad. Historically speaking, Partizan NIS have won only 6 games in Zadar in the regional league history in 17 attempts. Can this be their 7th?
Match-up in focus: It will be an interesting battle in the paint this time, as Zadar big man Chinanu Onuaku has been shining recently and this time he will be challenging former ABA Super Cup MVP Rashawn Thomas. Currently, Onuaku is the best in Zadar in both scoring and rebounding with an average of 14.3 points and 7.4 rebounds. On the other side, Thomas has also been playing great recently for Partizan NIS and he is averaging 8.7 points and 6.4 rebounds per game this season in the ABA League. Which one will prevail this time?
Head to head in the regional league: In total 11:22; In Zadar 9:6.