Damjanović replaces Anzulović on Krka bench
Wednesday, 17. March 2021 at 11:58
After poor lately performances by the Krka senior team in the ABA League, there has been a change at the team's bench. Krka and Vladimir Anzulović have agreed their cooperation on mutual consent.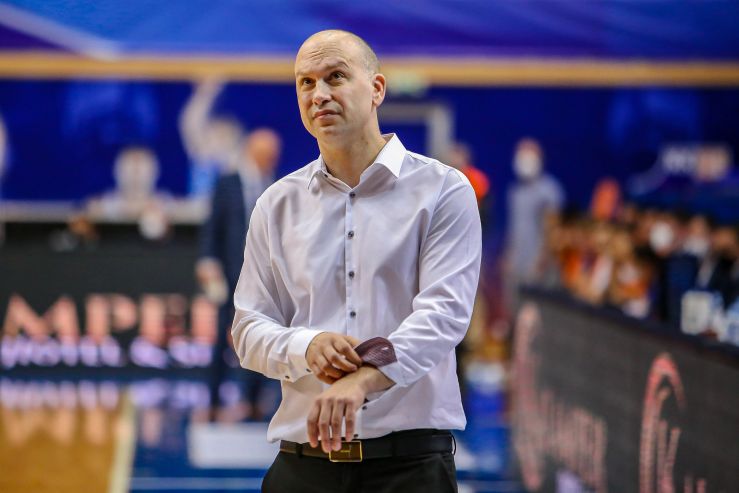 Vladimir Anzulovic (Photo: Mornar/Media Pro)
Dalibor Damjanović, who has already led his first practice as Krka head coach, will take over the team until the end of the 2020/21 season. Damjanović used to be the assistant coach so far at Krka and he is also the assistant coach at Slovenia National Team.
"The latest results of the squad forced us to act. Vladimir Anzulović is no longer Krka head coach. The club and head coach have mutually agreed to part ways. I wish to thank Vladimir for everything that he has done for our club, especially the hard work and the results that he has had with the team. We wish him all the best in his future coaching career," Andraž Šuštarič, the club's president told.
----------------------
Namesto Anzulovića bo Krko vodil Damjanović
Po slabših predstavah Krkine članske ekipe v zadnjem obdobju v Ligi ABA je prišlo do spremembe na mestu glavnega trenerja. Krka je sporazumno prekinila pogodbo z Vladimirjem Anzulovićem, ki je ekipo vodil od novembra 2019.
Do konca sezone 2020/2021 bo trener članov Dalibor Damjanovič, ki je z moštvom že opravil prvi trening. Damjanovič je v klubu do sedaj deloval kot pomočnik trenerja, obenem pa je tudi pomočnik selektorja slovenske košarkarske reprezentance.
"Zadnji rezultati moštva so nas prisilili v ukrepanje. Vladimir Anzulović ni več trener članske ekipe Krke. Klub in trener sta se sporazumno razšla. Na tem mestu se želim zahvaliti Vladimirju za vse, kar je storil za našo košarkarsko sredino, predvsem pa za prizadevno delo in rezultate, ki jih je beležil. Na njegovi nadaljnji trenerski poti mu želimo vse dobro," je kadrovsko potezo pojasnil predsednik kluba Andraž Šuštarič.