Smith one more season with Mornar
Monday, 03. May 2021 at 17:05
One of the best players of Mornar in the current season, Taylor Smith, will be wearing the jersey of Mornar in the next season as well, as he has extended the cooperation with the Bar squad for another year.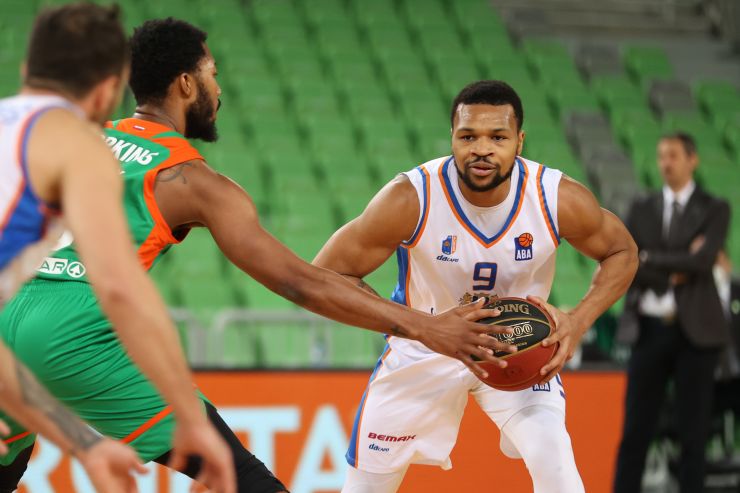 Taylor Smith (Photo: Cedevita Olimpija/Ales Fevzer)
Taylor Smith has been averaging 9.4 points, 5 rebounds and 1.9 blocks per game in the ABA League, becoming the top shot blocker in the ABA League in the Regular Season.
By extending the cooperatin with the 30-year old big man, Mornar have confirmed their high ambitions in the next ABA League season, as Marko Jeremić has also extended with the »Pride of Bar« recently, while Jacob Pullen has signed a 2-year deal last year.
-----------------------
Smit i sledeće sezone u dresu Mornara
Jedan od najboljih igrača Mornara u tekućoj sezoni, Tejlor Smit, i sledeće sezone nosiće dres Mornara pošto je produžio ugovor na još jednu godinu!
Smit je u regularnom dijelu sezone u ABA ligi postizao prosječno 9,4 poena, imao 5 skokova i 1,9 blokada po čemu je najbolji u ligaškom dijelu regionalnog šampionata.
Produžetkom saradnje sa tridesetogodišnjim centrom, Mornar je potvrdio visoke ambicije i u sledećoj sezoni, pošto je nedavno i Marko Jeremić produžio vjernost "Ponosu Bara" dok je Džejkob Pulen lani potpisao dvogodišnji ugovor.